Santorini island
Or otherwise known as Thira, Santorini, is considered the most romantic destinations of the Greek islands and the top destination in Greece worldwide. Located in the Cyclades islands of the Aegean Sea, and widely speculated to be the Lost land of Atlantis that fables say sank into the sea. Santorini island was the site of one of the largest volcanic eruptions in recorded history. All that remains today is part of the island that once was and a submerged active volcano with caldera that forms the crescent of the island surrounding it. It is actually comprised of a group of islands consisting of Thira, Thirasia, Aspronissi, Palea and Nea Kameni all forming a loose circle that was once the volcano.
Amazingly the village of Fira looks like a marvellous painting seemingly clinging to the rock face of the caldera, in the traditional Cycladic architecture with breathtaking view to the sea and the island of Thirasia. Santorini Greece is also famous for the romantic sunset which has been voted the best in the world.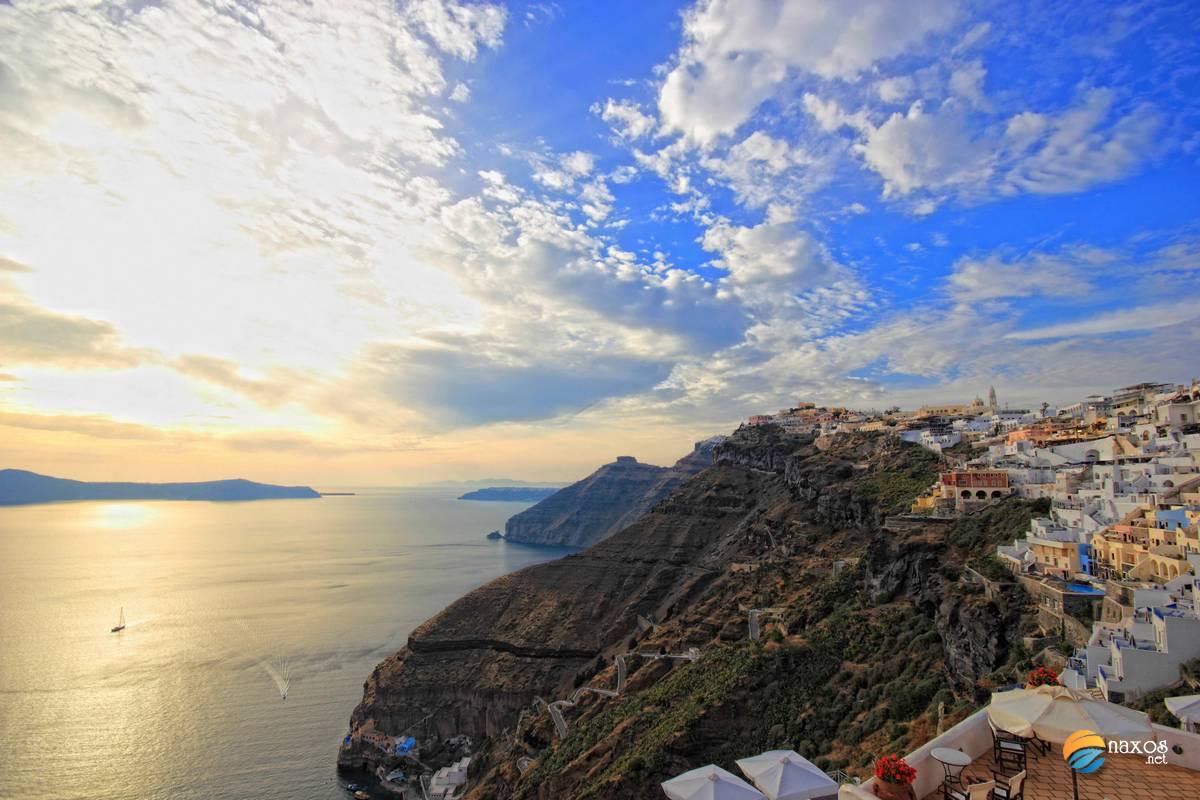 Fira, Oia, Imerovígli and Firostefáni are locally known as the balcony of Santorini or the "Caldera's eyebrow" all facing the volcano. The smaller villages ofAkrotíri and Messa Vouno, offer sightseeing with the archaeological sites, while the villages of Ammoudi, Emporio, Finikia, Karterades, Kamari, Perissa, Perivolos, Pyrgos, Megalohori, Messaria and Monolithos are less cosmopolitan rural and more laid back surrounded by vineyards. Others are whitewashed cliff-top villages with castles affording fantastic views out over the Greek Aegean Sea.
Santorini's beaches are in many respects also unique due to their variety in colour. There are white, red and black sanded beaches some have impressive lunar landscapes and others spectacular unworldly rock formations or small volcanic pebbles which are the favourite of many.
On Santorini food is an important gastronomic experience of both local and international cuisine! Some of the vegetables found on the island are unique in appearance and the flavours of both the vegetables and grapes are not found anywhere else. It is widely accepted that the volcanic earth of the island is the major contributor to this.
The views toward the islands and surrounding coast are simply stunning!! They are often the backdrop for romantic photos and weddings making Santorini in Greece one of the most sought after places in the world for a romantic getaway. The uniqueness of this island, the views it offers and its clean deep blue waters are rightly considered amongst the very best in the world.