Naxos Taverns
When it is time to eat in any of the many Naxos Taverns, keep in mind that food here is something like a ritual. In fact, food is not to be taken lightly, as it is for many the ultimate highlight of their summer holidays on this beautiful Greek island. And what better way to experience the best of the Naxian gastronomy than spending your lunchtime or your evening at a traditional local taverna, tasting the famous naxian cheese while sipping the local wine. It is in such places that you can order homemade dishes, with recipes unchanged for decades, using only the best local products as their basic ingredients to make your dining experience truly unique. It is only here that you can discover what the Mediterranean diet is all about and not in some fancy modern city restaurant or in a high circulation magazine!
Naxos island is truly blessed with an abundant produce of great quality to feed its population and most of the tourists visiting each year. The Aegean Sea provides great shores but also many fish for any tavern by the sea or for those located in the villages.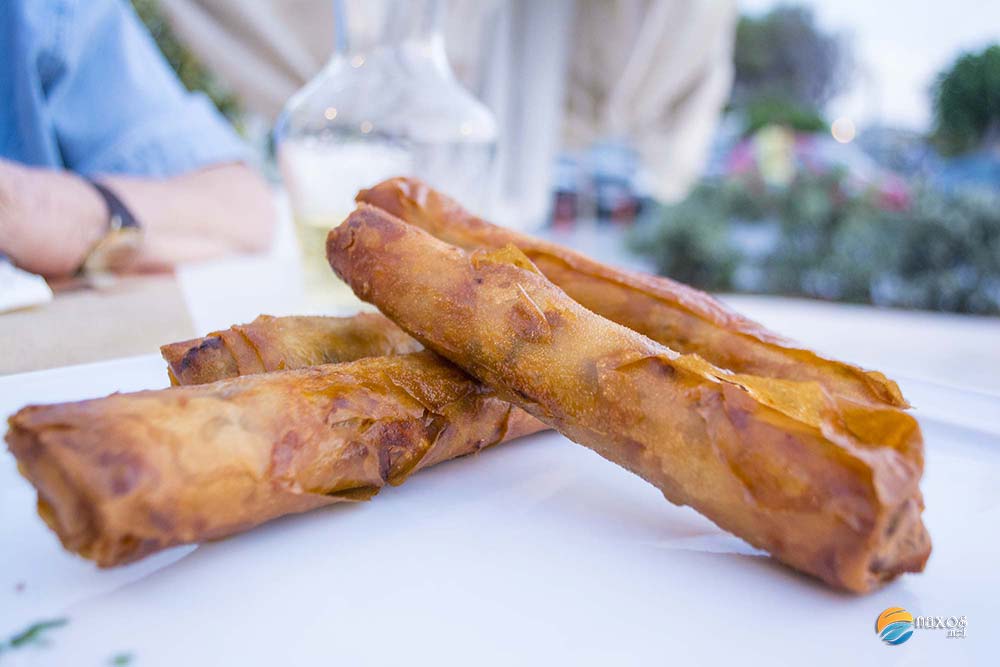 Where to eat on Naxos
As expected, you will find most of the taverns in Naxos Town (Naxos Chora), alongside the port's promenade, at Saint George beach, at the Castle or hidden in unexpected places. Agios Prokopios and Agia Anna are also known for their culinary delights, providing many options to their visitors, which are many since these are the most visited resorts on the island. Moving further away, Plaka has recently gathered many tavernas that mostly offer traditional Greek food of great variety and as you move towards the south-west beaches, Kastraki, Mikri Vigla, Alyko, Pyrgaki and Agiassos there are far less options, for many of which fame has not been a problem for their quality dishes, securing them a steady clientele over the years.
Apollonas village, with its huge Kouros statue, is a good example of how a small fishing village evolved into a major tourist attraction, even though it is so far from most of the island's highlights. The locals figured it out early enough by converting this seaside village into a quaint resort, with traditional Greek tavernas laid along its small port.
Good quality food is also a main attraction point in the most unlikely places, far from the island's alluring shores. Tripodes, Halki, Filoti, Apeiranthos, Koronos, Potamia and Eggares are such good examples. In high season, it is quite common that you will not find a table available for you and your friends unless you have made a reservation. People ignore the road condition and the location, choosing a more quiet environment for their lunch or dinner. These places may offer no sea view but they offer a rural and refreshing environment and tastes far from the ordinary. You will often find such taverns being mentioned in many travel guides, with excellent reviews on TripAdvisor.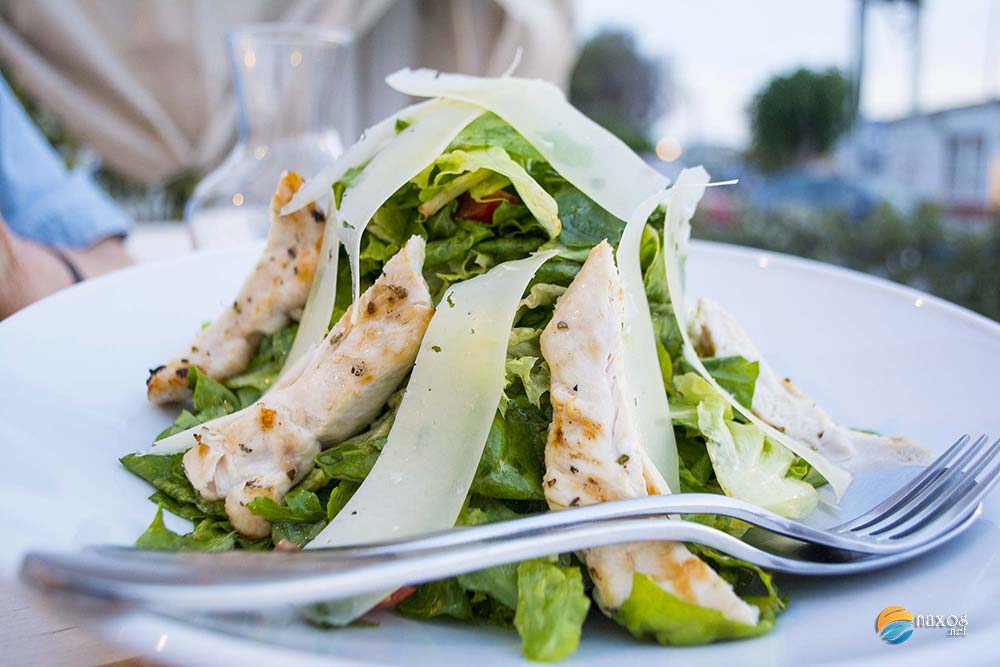 What to expect from most taverns on Naxos
Although an island, Naxos is mostly known for its good quality meat, no matter how strange this may sound. Some find it bizarre that fish is not even a choice on the menu of many of the taverns of Naxos. On this island, meat is king. As a result, it is rare to find a fish tavern that serves nothing but fish and products of the sea. There is always some meat on the grill or some fried meatballs. In fact, the most famous food is the souvlaki, the delicious Greek fast food that has become so famous worldwide. Together with gyros, tzatziki and fries they are the cheap option for many hungry tourists who appreciate the taste. You can buy this at the tavern or you can ask for delivery at the place you are staying, providing it is nearby.
It is only a few tavernas that offer live music on a daily basis and these tend to be a bit more expensive than the rest. However, it is an experience worth the few extra euros.
If you are taking your car, please keep in mind that only a few taverns have their own parking space. If you have children, please note that there are a few taverns that provide a children's playground and make eating for parents a more relaxing experience.
When it comes to fresh water, you should know that ordinary tap water of Naxos is not drinkable. It will not harm you to drink it but it does not taste so good. The municipality of Naxos has placed several taps in Naxos Town with fresh water of good quality, suitable for drinking. However, when you are eating out, it is best to buy bottled water.
A common practice on Naxos and on many other Greek islands, is to combine accommodation with food. This is why many hotels or rooms have their own taverns in the same premises. They offer food for everyone but they sometimes offer discounts to their guests. For them, meals and drinks from the bar can be served in the rooms, by the swimming pool or by the garden. It is not uncommon for a hotel to receive better reviews for its food than for its accommodation services!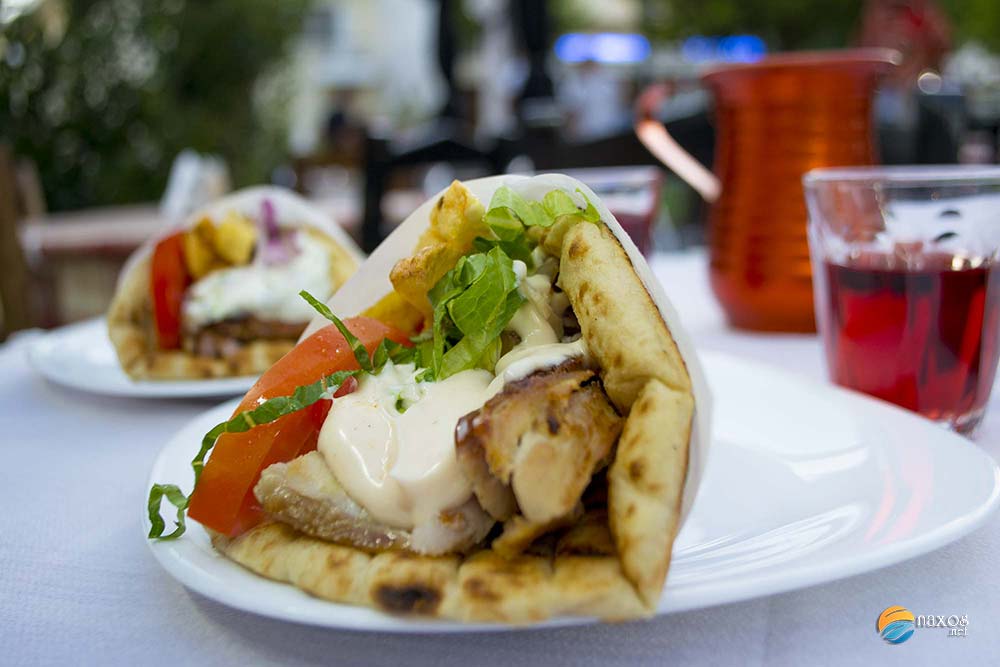 Food prices and reservations
Food prices vary from one business to another, depending on location, standards, decoration, services and amenities provided and variety of dishes. Naxos is still considered one of the cheapest islands in Cyclades, when it comes to food and one of the cheapest areas in Greece, in some cases. Occasionally, many taverns make offers on certain dishes, giving them at a lower price, mainly as a marketing strategy.
If you want to reserve a table, you will need to call at least 2 hours ahead and provide approximate arrival time and number of persons. Hardly any tavern on Naxos makes online reservations and only a few have a website where you can find a map of the area where it is located and, perhaps, some photos. In many cases, you have to rely on your own intuition. A good rule of thumb is to check what the locals do, where they are going. That should give you a good idea of which are the best places to eat on Naxos.
In most cases, taverns, hotels, houses and bars are so close together that provisions had to be taken so that the locals or the people who wish to sleep are not affected. Tavern working hours depend on the location and the services offered. For those who also serve coffee and breakfast, work starts from early in the morning. But, as with most places around the world, the kitchen operates for many more hours for food preparation and cleaning, after the tavern closes in the evening, takes quite some time.
The conclusion
Naxians know their food. They know their meat, their cheese and their wine. They take great pride in the recipes that were passed on to them by their ancestors and they have incorporated them in the modern cuisine with great success. Tradition is now the new "must" and when it comes to food on Naxos, it is also delicious.