Find your beach on Naxos island
Having a problem selecting the right beach on Naxos Island?
It is only natural, Naxos is the largest and among the most famous of the Cycladic islands with many beaches to swim at, some of which stretch for several kilometers. In fact, with 29 beaches in all directions of the compass, you could spend a month at a different one each day and one or two days extra to get back to your favorite one. The beach type is varied to the point that it can please even the most demanding visitor. A careful perusal of this page will put in a position to be able to choose the ones that you prefer without wasting a single day of your vacation.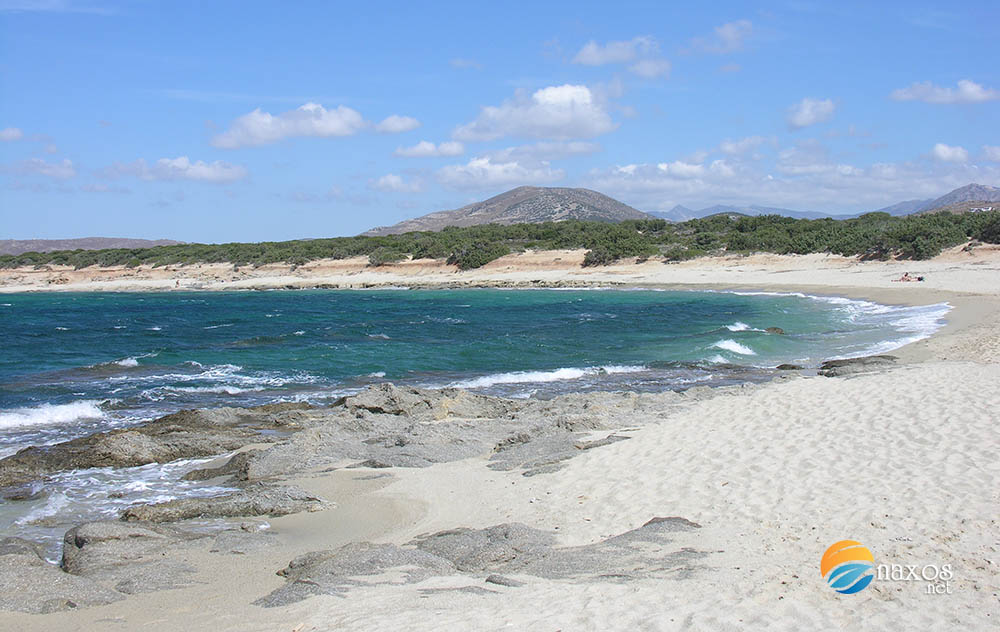 Sports
If you are the type of person that is always seeking action and grabs a surf-board the moment you hit the beach, then Naxos offers you many choices. Try the beaches of Saint George (Agios Georgios), Agios Prokopios, Plaka and of cource Mikri Vigla. You will find surfing equipment for hire and lots of moral support, since you won't be the only one racing with the wind. If you have your own equipment, nothing can stop you from trying all the southwest beaches of the island.
Organised beaches
MUSIC, FUN and EXCITEMENT
if it is music and a good time we are talking about, then it is the beach of Saint George (Agios Georgios) you need to go to. The bars and cafes stretch all the way down to the sandy beach which is full of young people playing racket ball and having the time of their lives. Another good selection though is the beach of Agios Prokopios where there are also many cafe-bars just 20m away from the beach. Here the environment offers a wonderful view and nice music. Many of them also serve food and snacks.
Quiet and remote beaches
You are in luck! The island's beaches are many and large enough, so you can always find a place to be alone, or at least be far enough from others so as not to be bothered by their activities. This holds true even during high season. The island is big enough that you can still find many places that will suit you. Not many islands can offer such conditions with such a pristine environment. Here you can choose between Plaka beach (its southern end mostly), Orkos, Mikri Vigla, Kastraki, Pyrgaki, Alyko and Agiassos, or looking towards the north, you also have a choice of Ammitis, Abram and Lionas. The south-eastern coastline, although having smaller beaches, never gets as crowded, so Psili Ammos is also a good option.
Nudists' Beaches
Officially no beach is a declared nudist beach but this is Greece so don't let that bother you at all especially in the off season when tourists are few and far between. In fact it is they who promote the liberating activity. On some beaches the nudists outnumber the rest and since the beaches are large they tend to separate naturally. These beaches are Agios Prokopis (at its north end), Plaka, Orkos, Mikri Vigla, Kastraki and Alyko.
With beachfront taverns
On most beaches there are taverns by the sea and in many cases they even have tables on the sand or under the shade of the trees. What could be more romantic or lazily restful than this? There is no need to name any particular beach because even if there is no place to eat on the beach, all you need to do is wonder around and you will surely find such a place nearby.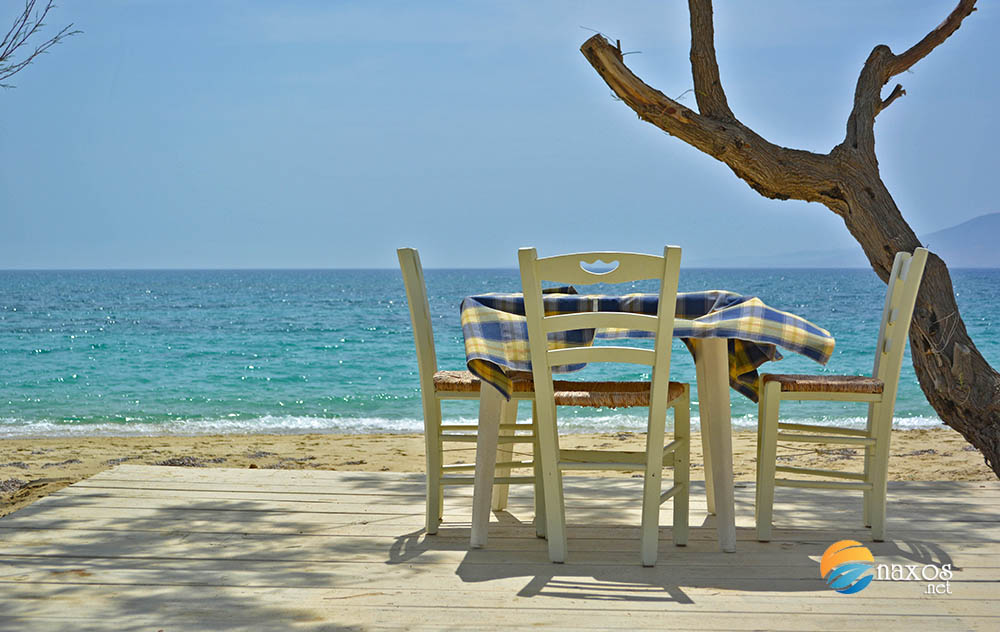 Children friendly beaches
If you have young children who do not know how to swim yet, try the beach of Saint George (Agios Georgios), where the water is very shallow for a long way in and a child can easily play without danger under your watchful eye. If, on the other hand, you prefer to have your child swimming far from noise and crowds, then another selection is the endless beach of Kastraki or Plaka or Mikri Vigla. They are never too crowded, so you'll easily be able to keep an eye on your children. The water there is not as shallow as it is at Saint George, but it still safe enough for children to swim there, as long as parents are careful enough to watch them.
An important factor to consider is how far from the asphalt road the beaches are. In most cases the road is some way off which means that you may have a lot to carry but that is offset by the safety this offers your children. It is only in Agia Anna that the asphalt road goes by the beach for approximately half the beach's length. So, when going there with your children, extra care should be taken or you should swim a bit further along the same beach.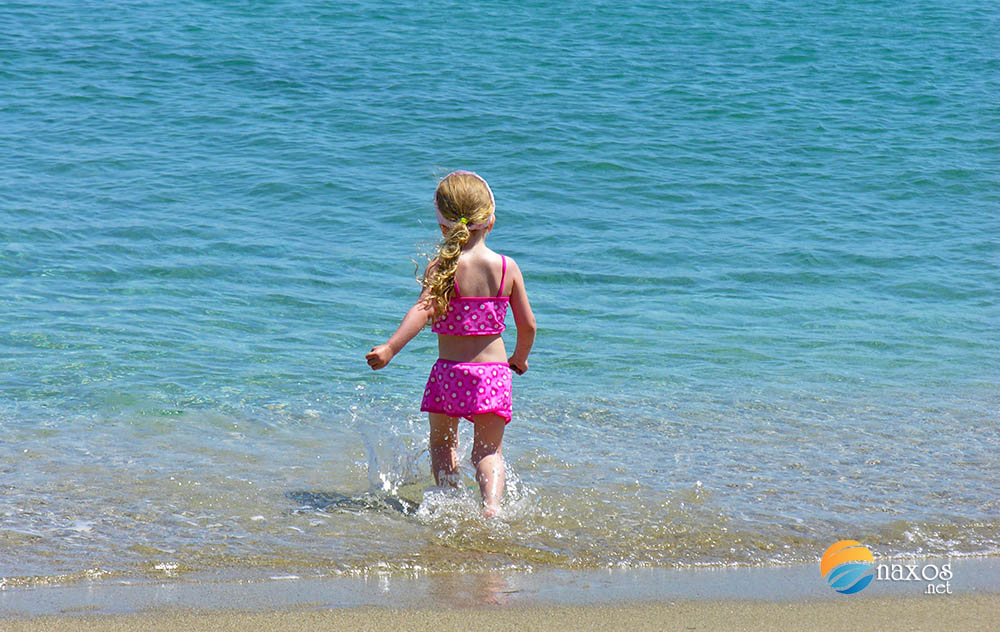 Beaches of Naxos Town
If you have chosen to stay in Naxos Town and are not in interested in renting a car or motorbike to see more of the island, but you do want to get to the beach within five minutes of walking distance, then Agios Georgios (Saint George) is the best choice. It is not your only choice because at the northern end of Palatia (Apollo's Temple) you will find Grotta, this rocky beach is best for experienced swimmers, since waves can sometimes get really wild.
Take advantage of everything the island has to offer. Don't miss a thing!
Sense and taste everything that will make your vacation an experience you will never forget.
One thing is for sure… on Naxos Island you will find everything you've ever hoped to find on an island. You just need to go exploring and don't forget to take pictures, lots of pictures to add to our Naxos.Net photo galleries to share the memories that made you part of this island with your friends.