Approximately 34.5 kilometres from Naxos Town at a distance of only 9.4 kilometres from the village of Koronos one can reach Lionas Bay; this is the shortest way to get to Lionas village and its beach. You will cross Agios Thalaleos, Kourounochori, Kinidaros and Koronos villages.
Another way is via Chalki and Apiranthos, still going towards Koronos village.
Any route you take, it is a fact that you will have to endure the changing weather, the never ending turns, the steep mountainous route, the traditional villages on the way, the lush gorge, the fantastic Naxian countryside and the breath-taking views. As if this isn't enough, it is guaranteed that the view of the bay on your way will be something to remember.
Drivers must be extra careful as the road has many sharp curves, is quite steep and rather narrow. Those who do not carry a camera or a camcorder will most definitely regret it!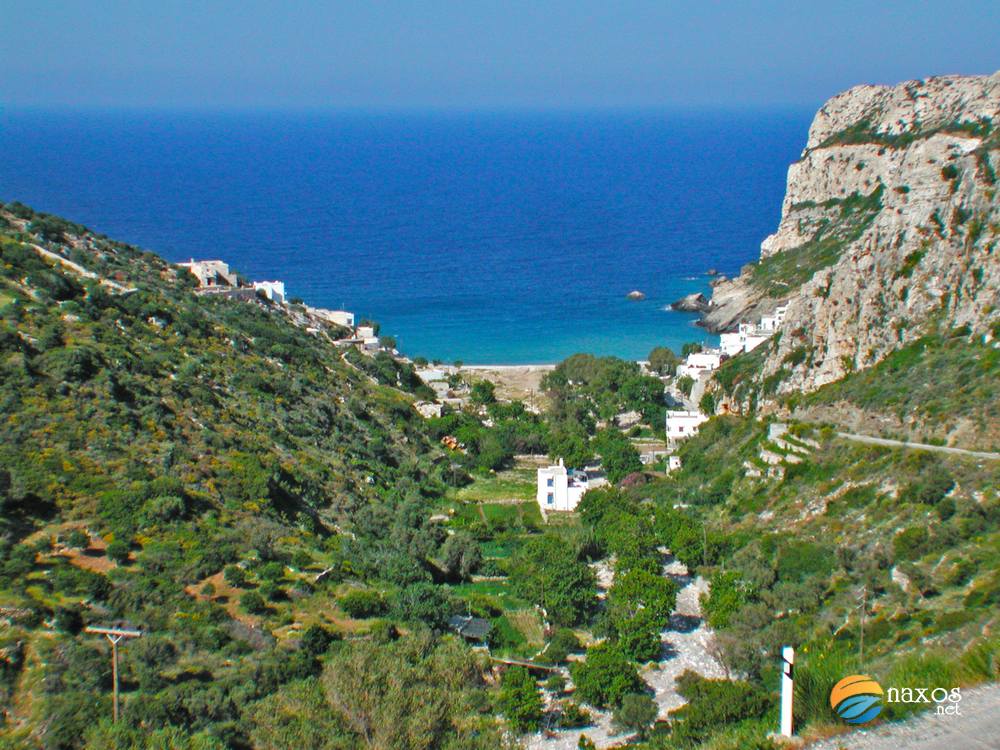 This beach is ideal for those who hate crowds and love good food eaten right on the beach or at the few taverns on the village's main road, some with side sea view. The beach is rather short, less than 180m in total, and it is not organised. But its proximity to the homonymous village will help you if you need some water, a snack or to grab a bite. And, if fishing or diving is your thing, you will love Lionas. The fact remains that it has been unspoilt by mass tourism, retaining part of its original charm and its strong "connection" with the surrounding nature.
When you are ready for a short nap and swim you can enjoy both but make sure you bring your own umbrella and sun-bed since none are available for rent.
From the early years of the previous century the bay of Lionas used to be the first port on the island to export emery. Nowadays, there is an almost sleepy village located above the bay on the mountain's slopes where visitors can find few tavernas with fresh fish and meat dishes.
Although the nearest village to Lionas is Mesi, due to the mountainous terrain it is Koronos that is accessed first (9.4 kilometres away) while to get to Mesi you will need to drive a total of 14.4 kilometres from the beach.
No beach is close enough to Lionas unless you are on a sailing boat or motor boat. There are many small coves close-by that can only be accessed via the sea. Although Apollonas, Azalas and Moutsouna seem close enough, there is no "short" way to take you there.