What to do on Naxos
Naxos is by any standards a large island, over 400 square kilometers and because of its morphology is also provides plenty to do. Naxos is a "family island". That doesn't mean it lacks in nightlife entertainment options. It simply means that it is so big and has so many beaches that it provides families with many options. Because of this, it tends to be suited to all tastes and ages, which is a blessing for everyone; for singles and couples, for adults who need a rest and don't have to be constantly entertaining their children and for children as it offers plenty to do with a high degree of safety, allowing them a sense of exploration and independence while still under the watchful eye of their parents.
In short, holidays on Naxos is for everyone. The variety the island offers is such that it has developed global tourism to the extent that one can see people not only from literally any part of the world, but in substantial numbers also. The good part about the size of the island is that it never seems crowded.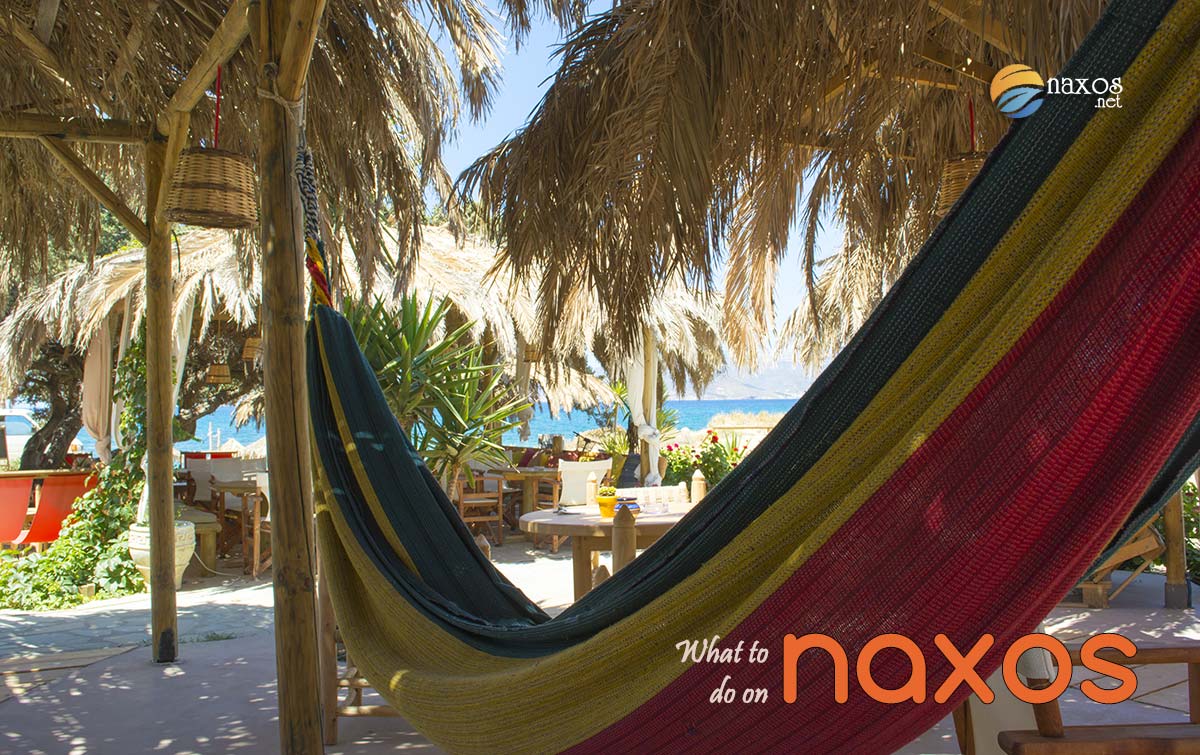 Touring Naxos
A person could tour Naxos on foot but it would certainly be a challenge. Naturally, because of its size, most visitors opt for a motor car. Sometimes people rent a 4x4 so they may have access to the more secluding beaches of the island. Many couples choose a motorcycle, usually an on-off road type. For the very adventurous and unperturbed by mount Zas in the center of Naxos Island, a mountain bike is a rarer option. One can often see cyclists loaded and straining away at the pedals as they make their way from place to place. By dividing the island into sections, you can see most of it in a week. For this reason, we offer you the Naxos tours section that will help as a basic guide.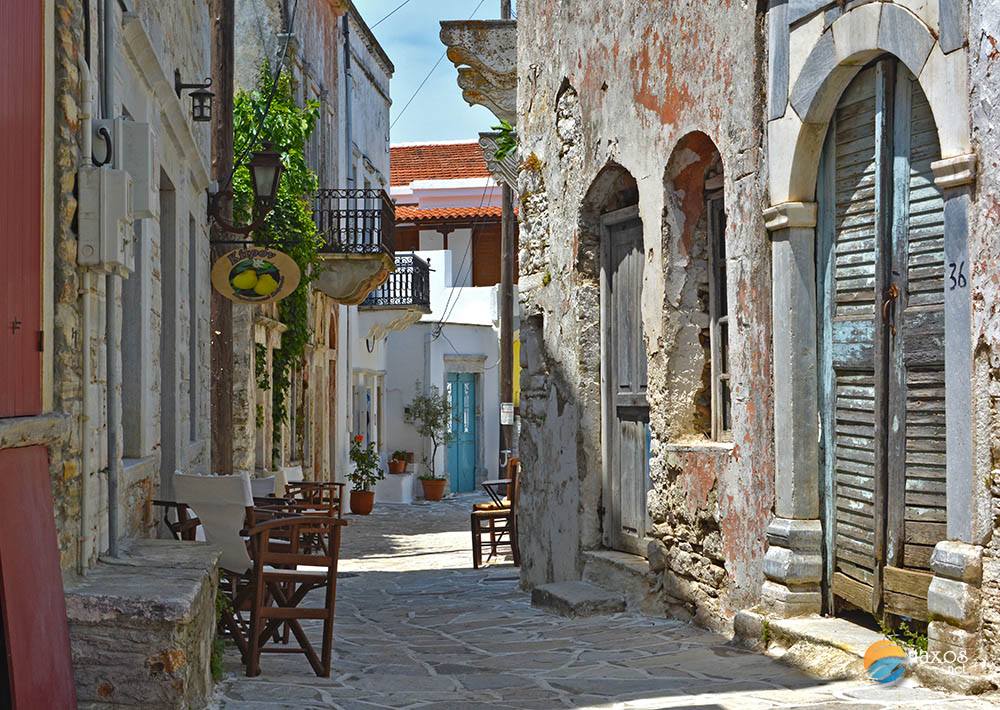 Naxos of old
Naxos Island is of course part of the Cyclades where a substantial part of ancient Greek culture developed and spread to Asia Minor and Europe. It is only natural then that antiquities and monuments are also a part of the Naxian landscape. The few but very important ancient sites have unique histories and there are two monumental statues of some significance mainly due to their astounding size. There are many more medieval monuments than ancient ones, since that period was tumultuous forcing the various Venetian and Greek lords to construct several personal domiciles. These are spread across the island at strategic points and villages to keep an eye out for pirates. Towers that resemble guard towers are to be found at several spots and medieval castles are also a part of the landscape.
Villages
Like most of Greece, the islands too developed strong localized traditions, customs and cuisine. In most cases very different from the next nearby village! Local life is colorful!! This tradition is readily seen at festivals where the locals have dance sometimes in traditional dress. The rest of the village inhabitants of course enjoy the sight in normal dress and partake heavily in the food and wine usually offered for free in Greek size portions reserved for the courageous and brave. It is a good opportunity to sample the local fare and the local food and wine. The villages are not only different in customs and food but also in architecture, as a tour of the island will reveal. And it is this variety that encourages most travelers to visit not only the seaside resorts of Naxos but also its many beautiful and traditional villages. That, in itself, needs quite a few days but it is a very rewarding experience. For more information please visit the villages section of this website.
Island hopping
When talking about islands (and especially the Greek islands), one cannot but get the urge to go sailing and island hopping. There is so much to see and experience. Naxos is perhaps the best place to serve as a base for island hopping simply because it is located at the centre of the Cyclades.
The Cycladic complex has many islands, some world famous. Mykonos, Santorini and Paros are just the most recognizable, but there are others that are truly stunning, even though fewer tourists know about them. Delos, Donoussa, Schinoussa, Koufonissia and Iraklia are some examples. The easiest and cheapest way to get to them is by ferry or by day cruise. Alternatively, you may hire a spot of a large or small sailing boat and make it an adventure! Big or small boats, it does not matter since all can sail the Aegean in safety and experienced captains do the sailing for you. If time is an issue, then a motor boat is a better choice since it will get you from place to place faster, but with some extra money. For more information please visit the island hopping page.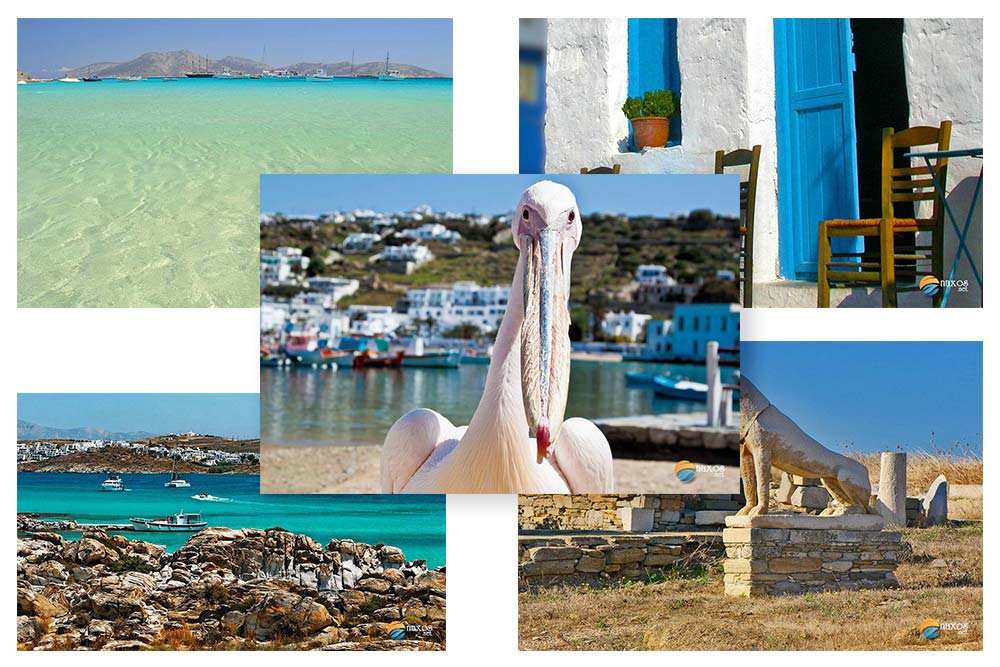 Entertainment
Every town, village and settlement has its local "cafenion", which is a traditional type of Greek coffee serving establishment which usually also serves Tsipouro (the Greek version of moonshine) and a meze (small selection of tidbits) to go with it. The term café usually refers to a more modern setting with popular international music, a wide variety of coffee and freshly squeezed fruit juices. Some even serve a full breakfast and toasted sandwiches.
Naxos may be a little more laid back than other islands but it is by no means lacking in bars (some of which have real personality) and beach bars along the most frequented beaches of the island. They can get VERY lively and after certain hours when they switch to Greek music, they get even LIVELIER!! Naxos Town is where you will find most of the café, bars and beach bars, followed by Agios Prokopios, Agia Anna and Plaka.
Food
Naxos is the largest of the Cycladic islands with strong agricultural roots and, as such, is also the provider for much of the food and water to its neighbors. Islanders are almost always a particular lot when it comes to their food production and cuisine; they mostly refuse to make use of synthetic fertilizers and pesticides, opting to share some of their bounty with nature. You would be hard pressed to find tasteless produce on Naxos. Good, wholesome flavorful produce, seafood, poultry, meats and dairy products are the norm.
Even the Greek version of Fast Food, the insanely tasty Pita-Gyro complé (the best way to order it) is amazing. It is the most inexpensive, filling and tasty meal without any processed ingredients. For those who want a wider selection of local fare, the numerous taverns will certainly fill their needs. Naturally, if international cuisine is what you seek, Naxos is home to several very good restaurants at very reasonable prices.
Activities
One cannot speak of Naxos without referring to its numerous and pristine blue flag beaches. Their quality of water is excellent much like the 30 plus beaches they lap. Only a few are organized while most are remote and secluded enough to require a motor car or for something a little different. Apart from the simple swimming and snorkeling options, for the more active there is sailing, kite and wind surfing and a fun option for children to be had at the water park.
Other activities also exist. For those who want to test their skill with horseback riding, mountain biking and for those that want to test their nerves on the trails of Mount Zas. And for those who want to go fishing, you can ask a local fisherman to take you along; you will help him with his catch and in return, you will not only enjoy the fishing experience but also taste the freshly made kakavia soup. But when it comes down to something thrilling, sailing is the name and it is the ultimate holiday experience.
Boredom is a choice, not an option on Naxos.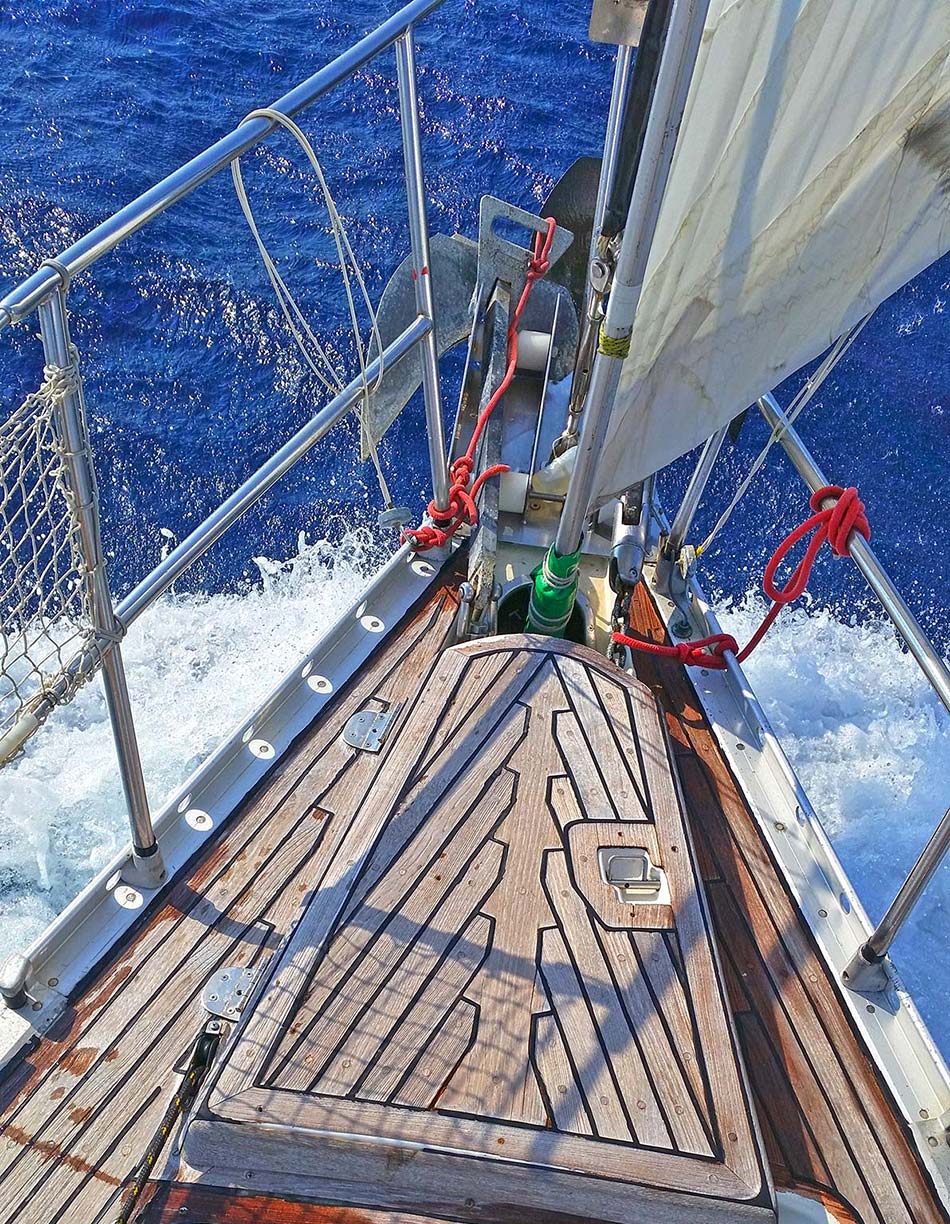 Shopping
A big part of our holidays is always about shopping. Most of us are so addicted to it that we tend to buy things that we would never give money for. Actually, this is part of the fun; getting off the grid, going a bit crazy. It has to do with all these items that we want to purchase for family and friends, so that they, too, can taste our excitement. It also has to do with getting enough reminders, useful for the months that follow our wonderful holidays.
Such items can be anything from inexpensive souvenirs or postcards, to costly items and jewelry. Whatever makes us happy, as long as we can afford it.
The wonderful thing about shopping while on holidays abroad is that we can buy items that we would never find at home. They always seem appealing and somewhat exotic. Shopping on Naxos is exciting; the island has so many things to offer for every taste and budget.
The best place to shop is the capital, Naxos Town, which gathers the vast majority of the shops. You can find just about everything. Still, there are things you can find in the larger villages too, such as Apeiranthos and Filoti. These are usually handmade and may be pottery items, embroideries, paintings and antiquity replicas.
Go for it and have fun … just make sure that everything can fit in your luggage!
To conclude ...
Naxos is a little world on its own.
With so much to do, it is almost impossible for any tourist to fully appreciate it in a short time frame. It takes days, if not weeks, to explore the whole island and experience what it has to offer.
Truthfully, the ONLY way to experience it all without being stressed, is with several well planned trips or with a really long stay. It is only then that you will have the necessary time to fully appreciate as much as possible in the time you have, and if there is but one certainty…, enjoy it on your own terms you will…