Activities on Naxos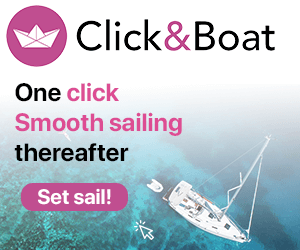 Naxos is an island in Greece and as such one of its main activities would be anything related to water since that is what surrounds the island. Naturally being one of the large islands, it has a lot more to offer in terms of land activities due to its size, making overland travel a necessity. Outdoor sports on land include mountain biking, hiking and horseback riding but water related activities are its main holiday adventure.
Swimming at one of the beaches (and there are at least 30), many with blue flag waters, is a firm favorite closely followed by snorkeling and diving. A little higher on the budget scale are windsurfing, kite surfing and sailing. All the necessary equipment can be hired for the former two and renting spots on a sailboat for a day is not unreasonably priced. If none of these activities is your thing because you want a little solitude to wind down, something as simple as several yards of tackle and a hook for some fishing can provide endless hours of quiet reflection as you gaze out to sea.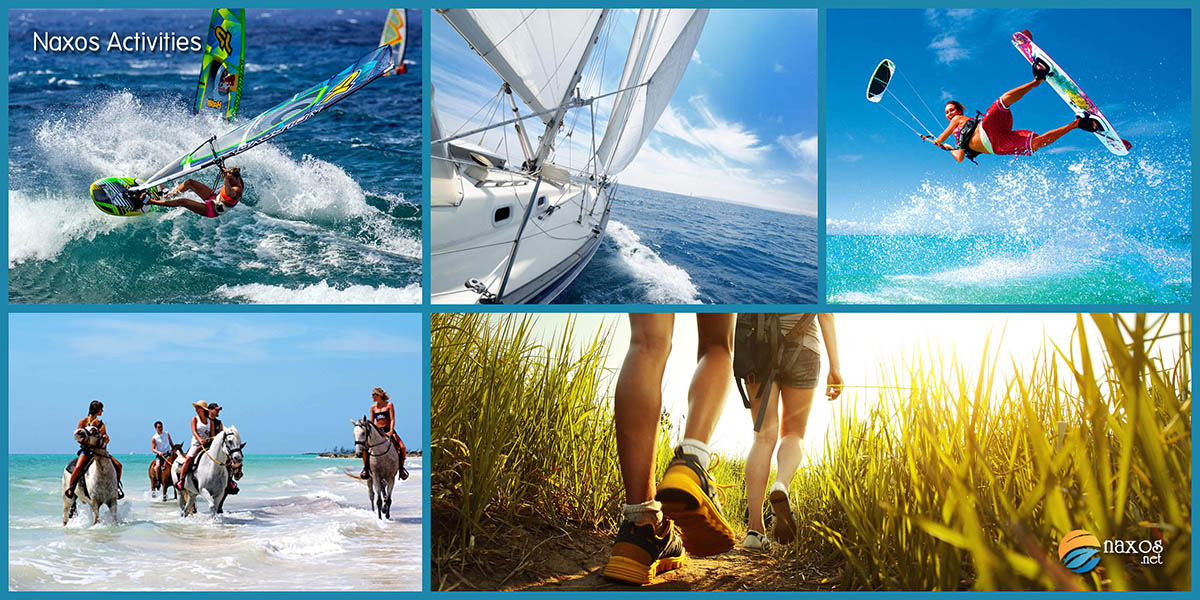 None of these things is out of reach since all that is necessary is to make a start by looking through our guide to find the hotel you like and book online to make sure you have a place to stay.
Come join the fun !!!
Naxos Island - Hiking-Trekking
Naxos Island features a network of hundreds of kilometers hiking and trekking to explore. From antiquity to the late 1960's, this network of trails once constituted the transportation thoroughfares from one village to another, and the main means of access between the settlements to the nearby fields and other farming areas that belong to the locals. Essentially speaking, the hiker-trekker is treading the same paths created by feet from ancient times till today.
The walking trails and rural tracks on Naxos Island, have linked trails of cultural interest that lead to ancient monuments, churches and chapels of all sizes and ages, medieval towers at strategic points, traditional farmsteads that still produce goods, monasteries both active and abandoned, to old water mills, water fountains and cool springs.
Naxos Island - Bike Riding
Bike riding on Naxos Island can be a pleasant way to explore the countryside. You will have to make day trips and perhaps plan for stopovers, since the island is large and mountainous in the center. On the plus side, you get to experience a rich natural environment of scenery and landscape stretching from the coast to inland areas. The variety of mountain trails, rural roads and asphalt road network, provide something for everyone, whether it be biking or mountain biking.
The beauty of this means of transportation is being able to cover large distances so cycling routes lead to various parts of the island otherwise explored by foot. Visiting beaches a little farther than most care to walk is also something you might consider doing by bicycle.
Naxos Island - Horse Riding
Horseback riding on holiday is surely something to take photos of and write home about. This is something few vacationers think of doing usually opting for boring activities by comparison. The price of renting a horse is very competitive compared to other parts of Europe which is usually considerable. It is also a unique experience to gallop along Naxos's beaches and ride the trails that offer the chance of seeing the beauty of the island at a walking pace.
There is no need to worry about lack of experience in this matter since the local operators also provide rides on Naxos beaches to riders of all skill levels and even ponies for children. Get to see all the best places accompanied by a guide who knows the trails.
Naxos Yachting
A unique yachting experience awaits you on the island of Naxos. Yacht charters are quite new on Naxos and gaining fans every year. Why? Because you get to see a lot more within the same day. Travel from Naxos to Paros, Antiparos, Delos, Mykonos, Iraklia, Schinoussa, Koufonissia and Donoussa by chartering your own mini yacht. Moor your yacht wherever you want, the vessel is yours to master. Naxos yacht charters is a great way to see Naxos beaches and many of the Cyclades islands in the shortest time possible.
Naxos Island - Sailing
Naxos Island is a fantastic place to go sailing. It is really easy if you want to see some of the more secluded beaches of the island. If you are not an experienced sailor, rent a space on a yacht for the day with an experienced captain that knows the waters around the island and its secret spots. He will sail around the island anchoring at sheltered coves where you can have a swim. If you are a more experienced sailor hire a sailboat yourself and head out to sea visiting the nearby islands as well.
The yacht captains offer various day trips to several parts of the island and even neighboring islands if you wish. Should you be at Naxos in summer ask for the route around the southern coast if you have a sensitive stomach. You will enjoy a trip that is not overly affected by the seasonal northerly winds providing you with a lovely day to take great photos and have a good time. Reade more about Naxos Sailing.
Naxos Fishing Tours
Why not try an authentic Greek tradition during your holiday? And what could be more traditional and Greek than fishing? Naxos fishing tours have been available on Naxos for several years. It is the best way to capture the spirit of island life in Greece. Give it a try with a traditional fishing caique or a motorboat; both equally exciting experiences.
Naxos Island - Scuba diving
Naxos's varied coastline provides excellent diving conditions. There are several interesting sites to visit and explore for scuba divers. Should you be an advanced level diver aircraft, caves and shipwrecks are amongst your choices. For beginners, there are several diving centers on Naxos all offering modern equipment and experienced staff to tech you the basics affording you a first-class opportunity to discover the beauty of scuba diving. The diving centers are located on the organized beaches of the island.
It is strongly recommended that you contact the various Naxos diving centers for equipment to hire and information on the most interesting dives and their level of difficulty.
Ask them about the dives they recommend, such as the WWII Bristol Beaufighter or the Marianna shipwrecks for a more challenging dive, and the Frouros (the Guard) rocky islet for a less challenging visit to see marine life in the Mediterranean.
Naxos Island - Tennis
Naxos has its own tennis club providing well maintained courts for people that do not want to lose their edge or simply want to sweat and have some fun doing so. Bring your racquet if you prefer to use your own or buy one on the island if you like. The tennis club can probably throw a in a couple for the time you want to book.
If you do not have the necessary attire the tennis club can direct you to the closest retail outlet for such items.
Naxos Island - Watersports
The beaches of Naxos are all blue-flag beaches and due to the northern summer winds are considered ideal for all sorts of watersports. Visitors to the island who wish to catch these winds range from beginner to Olympic class. Apart from swimming which is the most widely practiced sport, windsurfing is a firm favorite because the winds average 5 Beaufort during the day which is ideal for windsurfing. These winds also support different styles of windsurfing (freestyle, free-ride, slalom/speed and wave).
Due to the windy conditions, Kitesurfing has become increasingly popular and several schools operate on the islands windy coast.
The organized beaches of Agios Georgios and a little farther away, Plaka, are best for waterskiing fans and offer equipment for rent. Motorboats for hire with experienced drivers, also provide opportunities for wakeboarding, banana and tube riding for excitement.