Naxos accommodation
Naxos Greece … what a destination! The once famous "Family Island" of Greece has now opened its arms to everyone. Beach, sun and fun is its new motto. Its amazing beaches and coastline are a true magnet. Newly built resorts and older renovated hotels with excellent services are ready to welcome all those who love Naxos.
The list of Naxos hotels, Naxos rooms, holiday apartments and studios is extensive for an island, as extensive as what each has to offer in fact. The highest percentages of accommodations are family owned businesses which as a rule offer quite clean and affordable lodgings usually within walking distance from the sea. Many of the owners speak English well enough to communicate with their clients.
Contemporary accommodation on Naxos varies significantly in style and taste with a range from basic which would include smaller rooms and bathrooms than one would expect, shower curtain instead of cubicle, simple wooden beds and furnishing with a small TV and perhaps plastic chairs on the balcony etc. There is a significant number of self-catering accommodations on the island, where kitchenettes or even a full kitchen is available. At the other end of the scale, there are high standard and quite luxurious rooms and villas with all the frills. These can all vary depending mainly on the area or exclusivity of the accommodation. Naturally, price varies accordingly.
Naxos has a mountain planted almost in the centre of the island which is host to some of the prettiest and more picturesque villages on the island. Because the majority of these villages have been around for centuries and in some cases millennia, little concern was given to people that had mobility challenges at the time. In some of these villages, accessibility for those with mobility challenges remains an issue. One gets the feeling that everything is uphill going both ways!!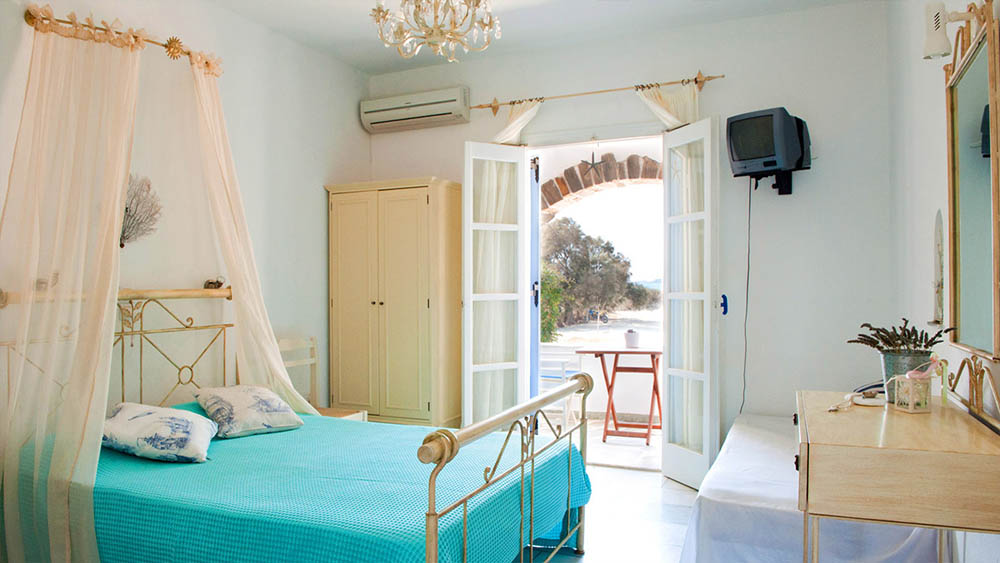 A major concern of course is that of safety for one's children. Most of these structures have been checked and are continuously rechecked, to standards required by the Greek National Tourism Organization (G.N.T.O.), even those that are not members of the board usually adhere to its strict requirements anyway. Naxos is in fact the only island with a full facility hospital in the Cyclades, the rest have smaller clinics.
Surprisingly enough, parking can sometimes be an issue, especially during high season. Although most island hotels offer few parking sites, Chora (the capital) actually has at least 4 public parking spaces. Most of the beaches on the other hand are usually a park anywhere affair unless otherwise indicated by the village signs or signs in the area. Family run accommodations often have their own parking spaces especially those that are outside the capital. Some villages which have been established for centuries have been built with narrow alleys and indeed, prefer not to have parking in the village to cater to businesses accommodations or even the locals. To help tourists and themselves they usually provide a parking area, just outside the village where it is easily accessible, offered free of charge.
The most popular areas where good deals can be found are of course the capital Naxos town, Agia Anna, Agios Prokopios, Plaka and Mikri Vigla. Some of the sparsely populated villages to the north and south of the area around the capital are unusually selected by those who are not really keen on the hustle and bustle of the capital and prefer their peace and quiet in those more remote and exceptionally attractive villages which have just as exceptional and attractive prices. A vehicle is of course a necessity there as opposed to the local transport shuttling to and fro at the more popular sections of the island.