Naxos hotels
Naxos is the largest of the very popular Cycladic group of islands. Others in the island complex are the well-known party islands of Mykonos and Santorini. Although the latter have hotels exclusive and luxurious enough for big budgets, Naxos is more of a "Family Island" that caters exceptionally well to this particular group providing very reasonable lodgings for the price. Although Naxos is not lacking in the number of hotels it offers, only a few of them are 5 star or luxury accommodations. The rest are numerous and this distinction also provides a wider spectrum of prices.
Naxos hotels are spread across the island both inland and seaside, offering clean and affordable rooms and common areas. The majority of the staff speaks English.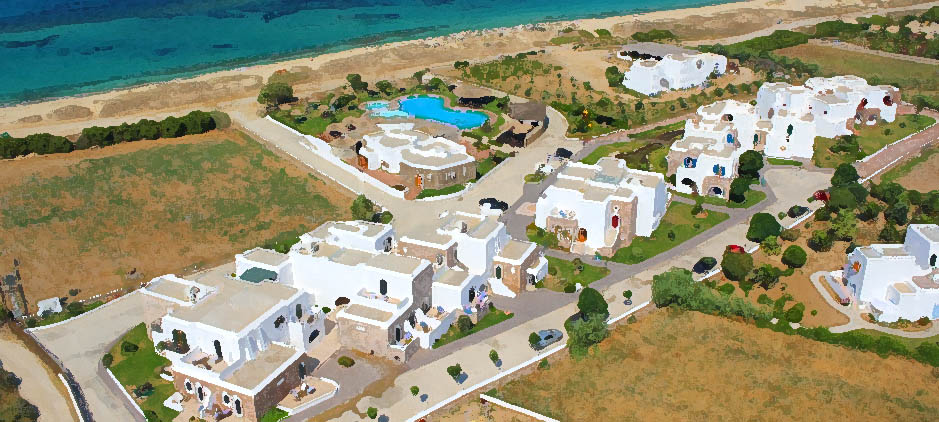 Contemporary hotels on Naxos can vary significantly in type, style and finish ranging from the smaller to the larger, which would include standard size rooms, studios, apartments and bungalows. Standard practice for hotels is to serve meals in the hotel's restaurant served directly from the facility's kitchens.
Most of these have bathtubs that double as showers with shower curtains, simple wooden beds and furnishing with a small TV and perhaps plastic chairs on the balcony etc. There is a significant number of self-catering accommodations on the island, where kitchenettes or even a full kitchen is available. At the other end of the scale, there are high standard and quite luxurious rooms and villas with all the frills instead of cubicle. These can all vary depending mainly on the area or exclusivity of the accommodation. Naturally, price varies accordingly.
Hotels of course are required to be up to code in many areas but one of the main ones is safety and particularly the safety for their guests and children. In accordance to this, the structures are continuously checked to standards required by the Greek National Tourism Organization (G.N.T.O.). Each hotel is required by law to have a doctor on call and, should the matter be serious enough, to warrant it, Naxos has a full facility hospital.
Although the majority of the island's hotels offer a few parking sites, Chora (the capital) has at least 4 public parking spaces but very few of the capital's hotels has its own parking area. Those who have one, offer only a limited number of parking places. Parking can sometimes be an issue, especially during high season, when visitors are required to park their vehicles quite far from their accommodation.
The most adored tourist resorts of Naxos are along its wonderful shores. It is there that one will find the majority of accommodation units. Naxos Town hotels vary in size and amenities, however, most of them are small to medium sized units. One can find newer and bigger resort style hotels in Agios Prokopios, Agia Anna, Plaka and Mikri Vigla with garden and playground facilities which make them ideal for families with small children. Swimming pool and sea view availability is definitely a bonus which adds up to the cost. Prices can vary significantly and they largely depend on the services the hotel has to offer to the traveler. Facilities such as Wi-Fi are now considered standard whereas most hotels with swimming pool also have a pool bar or at least serve drinks by the pool.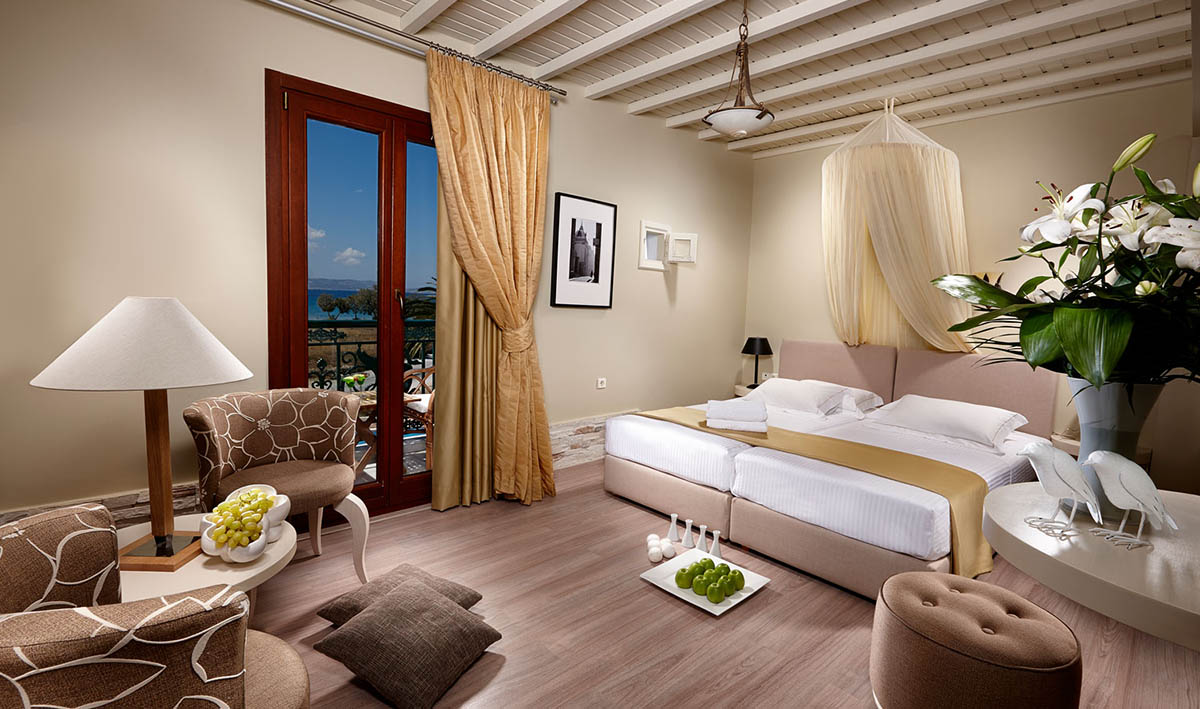 It is not uncommon, especially for families, to select accommodation that also offers a kitchen or kitchenette, in other words a studio or apartment. Although usually more expensive, it provides the opportunity of preparation of breakfast and light meals, especially for the children. However, while on holiday, people seem to be unwilling to spend time in the kitchen, which is why Naxos hotels still remain the top selection when it comes to choosing the appropriate accommodation.
Most Naxos hotels now provide online booking service to allow their customers to perform their reservation in a quick and efficient manner. Reservations start even before the end of the previous tourist season. Early booking takes place for various reasons, with the main two being to find a particular accommodation and to negotiate a cheap price. However, most reservations occur within a few weeks from the arrival date while some are last minute bookings. There are, of course, those who choose not to reserve their hotel room in advance and arrange everything while on the island, straight at the hotel's reception.