Naxos villas
Naxos island offers many options to all interested parties who are contemplating renting or purchasing Naxos holiday accommodation or Naxos villas for sale. The island of Naxos is large, almost 416 square kilometres with much of its land dotted with villages, some quite populous and therefore large offering good opportunities for both rent and purchase. There are plenty of options on villas for rent in Naxos Greece if that is what clients want instead of purchasing the various villas on Naxos Greece. However, the criteria are very different when it comes to making their choice to buy villas for sale in Naxos Greece.
Naturally, in rent or buy decisions the key of course is to know beforehand what prospective property owners want and how much they are willing to spend.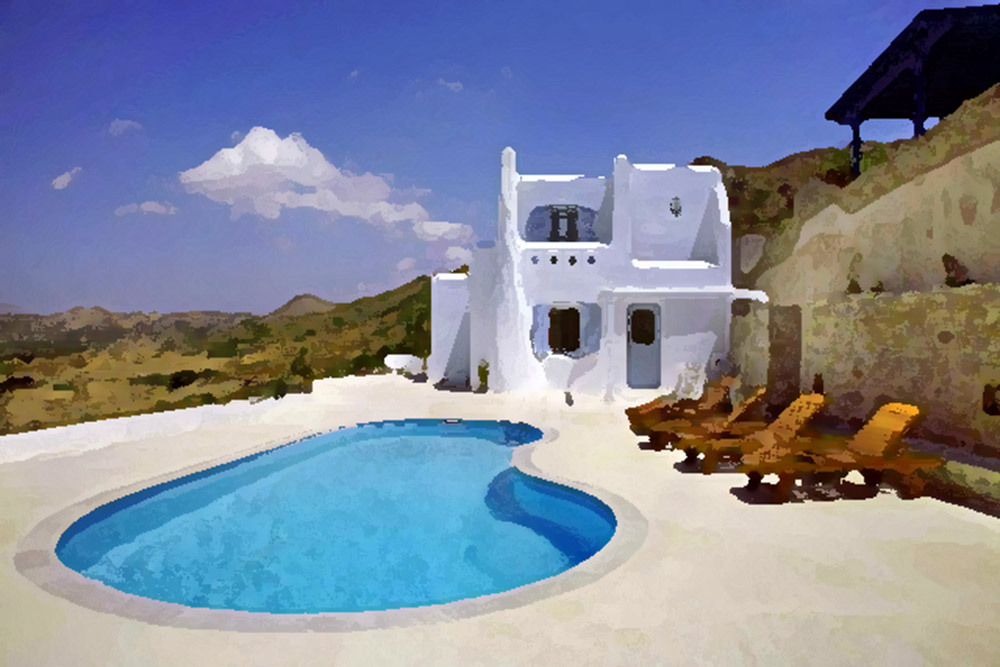 Properties on Naxos are varied as to their location, amenities and view. Things to take into consideration matters that in the future may make you happy or prove to be a constant thorn. Concessions may have to be made and tough questions need to be answered questions such as:
Am I in the market for real estate or vacation rentals?
Which one of the villas for sale in Naxos Greece is for me?
Which one of the Naxos Greece rental villas is for me?
If it is to be a real estate purchase, where do I want it to be? Inland with a sea view or by the sea?
If it is a Naxos villas rental:
Do I want my selection to be close to apartments or do I want to have a villa away from others?
Does my choice entail luxury suites?
Is a private swimming pool a financial viability?
Who will look after the swimming pool when I am not there?
Do I want to rent my property to others for holiday accommodation to defray the cost of purchase?
The choice of vacation rentals is just as tough, often posing some of the same questions especially since we need to get "more bang for our buck" so to speak. Assuming we do not want to purchase property only for ourselves only but want a Naxos villas rental for income. We have to keep in mind that it must be attractive enough to book clients well before the season starts which means putting ourselves in our prospective clients shoes:
Should I be looking at luxury villas in Naxos, Greece?
would it be a better choice to buy a Naxos apartment to rent?
Will my apartment for rent be considered a good holiday accommodation?
Are there any laws pertaining to foreigners owning vacation rentals?
Is it important that this Naxos rental apartment has a sea view or communal swimming pool?
Is it important that this is a large apartment close to town?
Just how much should I pay for villas for rent in Naxos Greece?
How long will I require to stay every year at my Naxos villas for rent?
Will my Naxos villa rentals pool be big enough for the whole family?
Will my Naxos villas pool be maintained as long as we are there?
The next thing to consider is the location of this property. Often vacationers want the rental to be close to town. Others prefer their seclusion for matters of privacy and the hardest group to accommodate, is the one that wants both!
The beaches around the coastline of the island number over 30. Assuming the choice leans more towards Naxos villa rentals, pool included, do you still want a sea view? Do you want it overlooking a the famous Naxos beach even though you have a pool?
Do you want a villa on the shores of one of the more popular beaches such as:
Agios Prokopios beach with a the turquoise waters and thick grained sand?
Agia Anna beach which offers shallow waters for small children and the convenience of having tavernas close by?
Plaka beach with its wide and long expanse of fine sand just a short way off from the beach bars and apartment accommodations?
Mikri Vigla beach that offers two excellent beaches and strong winds for wind-surfing and kite-surfing enthusiasts?
Strangely enough, despite the number of tourists that prefer this island, there are relatively few villas on Naxos in Greece. Although this is more a "family" island where families would be better off renting a villa and bringing a family along with close ties, it is not a situation often seen.