Naxos ferry
In the past, tourism to Naxos consisted mainly of Greeks who lived throughout Greece and locals (Naxians) who lived in Athens mostly. Before 2000, Naxos was basically unknown to most Greeks and foreigners, who preferred to visit the nearby better known islands in the Cyclades group. Due to this, Naxos' economy was based mainly on agriculture and animal husbandry. Income from the tourist trade was generally only a small fraction of its economy.
The little tourism existed on the island mainly between July 10th and August 25th, a very short period of time. As a result, the island's tourist infrastructure was relatively undeveloped. Consequently, transportation from and to Naxos was usually carrying local products to connecting ports.
Upon entering the new millennium, things have drastically changed for the island's tourist industry. The increased influx of tourists set the new foundations for the future of Naxos. Although today Naxos continues to be a strong agricultural economy, tourism is now the basic source of income for the local population. This heavily influenced the tourist infrastructure of the island. A large number of new accommodation units has been built and old ones have been fully renovated to keep up with tourist demands. Added to this, coastal transportation has seen new much larger ferries being assigned routes connecting the mainland of Greece and other islands to Naxos. Ferry schedules are now far more frequent, even during winter, as Naxos has increased its population. Another reason for the increase in sea travel is that the local airport is small and cannot handle jet propulsion aircraft, making ferry boats the main means of transportation to and from the island.
Naxos ferry availability largely depends on the season. Even though ferries have grown significantly larger than the previous models, Naxos ferry bookings have also increased during high season making it hard to find availability for passengers and especially for vehicles.
The main Naxos ferry port is the one at Naxos Town. It is the only port that can accept large ferries and its orientation is such that it is often battered by the winds from the north. However, it seems that the cost of creating a new port is such that things will remain as they are for quite a while. Naxos ferry port connection to the airport is best done via taxi.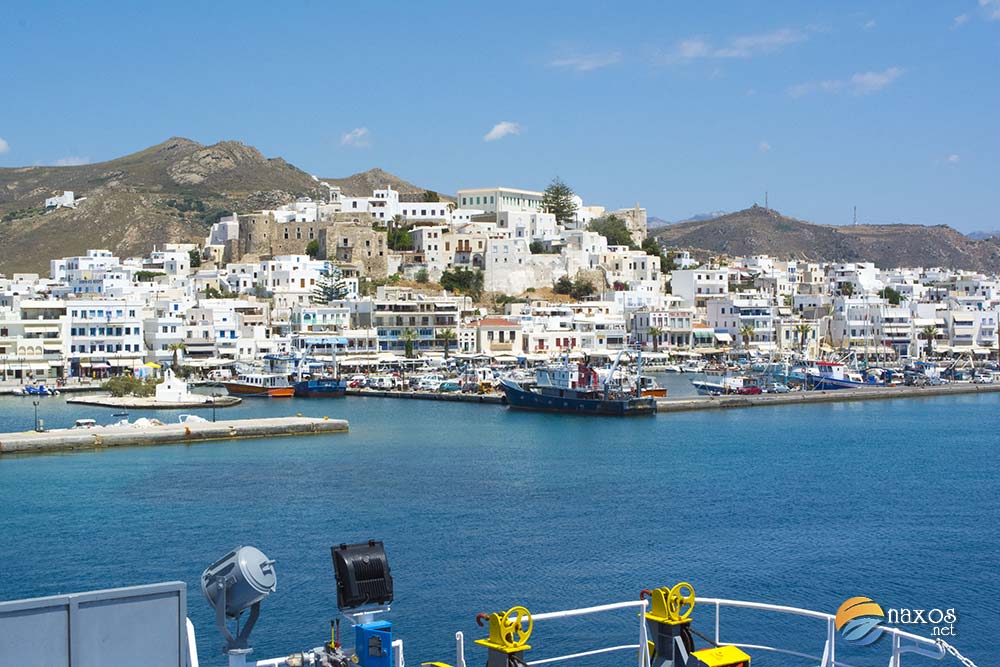 Naxos ferries
The most popular means of getting to and from Naxos is by ferry. Being still under touristic development, with an increasing number of tourists arriving every year, the need for reliable transportation is vital for Naxos. This need has been adequately covered to date by the highly developed and diverse ferry vessels that plough the Aegean Sea.
Blue Star ferries are, at present, the largest vessels to connect Naxos to the various Greek islands and to the Piraeus and Rafina ports of Athens. The largest of these vessels is Blue Star Delos, carrying 2400 passengers and up to 427 vehicles. A fleet of smaller vessels of the same company, named Blue Star Naxos, Paros and Ithaki, that range from a carrying capacity of 1300 to 1450 passengers and approximately 240 vehicles each also ferry tourists and products to the island of Naxos. Their speed is 25 to 28 knots, depending on the vessel. The trip from Piraeus to Naxos with the Blue Star ferries can take up to 5 hours and 30 minutes, while in some cases, due to port delays occurring during high season, it may even take longer.
Hellenic Seaways is another ferry company connecting Naxos to the Greek islands and to the Piraeus and Rafina ports. It uses fast catamaran ferries that carry passengers and some of them carry vehicles as well. These are the well known for their speed "High Speed ferries" which use water jet propulsion. They reach a speed of approximately 35 knots, carrying 1010 passengers and 188 vehicles. Ideally, the trip from Piraeus port to Naxos will take 3 hours and 45 minutes. However, during high season, there are delays at the in-between ports of call and there may be some delay. Extreme weather conditions, such as strong winds of 8 to 9 Beauforts may delay or even cancel the shuttle.