Naxos Horseback Riding
Horseback riding or horse riding. Call it what you like! It is a great deal of fun if you like to combine animals, freedom and sightseeing. Horse-riding can be a comfortable pastime if you take it slow and an exhilarating rush if you like a little speed. Horses have been linked to humans for several thousand years, often in an endearing and intimate relationship, told in hundreds of stories through the centuries. They are sure footed, highly intelligent and tend to be protective of people that are nice to them. A unique experience, in the sense that you are astride a smart animal you control, that has been a friend and servant to mankind for millennia.
Compared to similar horse riding opportunities across Europe, the reasonable rates of horseback riding in Greece are difficult to challenge. This especially considering the fact that you are riding on an interesting and attractive adventure, in the land that gave the world Pegasus and the Centaurs (half man Half Horse). On Naxos, horse riding is a whole new experience to explore parts of the island and enjoy an adventurous and out of the ordinary holiday.
One of the beauties of horse riding on Naxos is that it is the original, enjoyable off-road experience without the noise associated with motorbikes! Another is that you don't have to sweat pedaling your way up a steep hill or endanger yourself going downhill. And yet another, is that you get to see nature at a walking pace without walking! This is especially good for people that enjoy nature but find it difficult to REALLY enjoy it without a degree of discomfort! A great advantage indeed since your friendly critter is doing all the hard work, while you enjoy the sights and easy going pace.
The experience of swaying gently as the horse carefully picks its way across the landscape is comforting and gives you plenty of time to experience the sights and sounds of the countryside. Walking or galloping the length of the beach on a horse can be soothing or exciting depending on what you seek at that moment. Even the rhythmical "clop-clop" of their hooves on the cobblestones of narrow streets of traditional Naxos villages is comforting.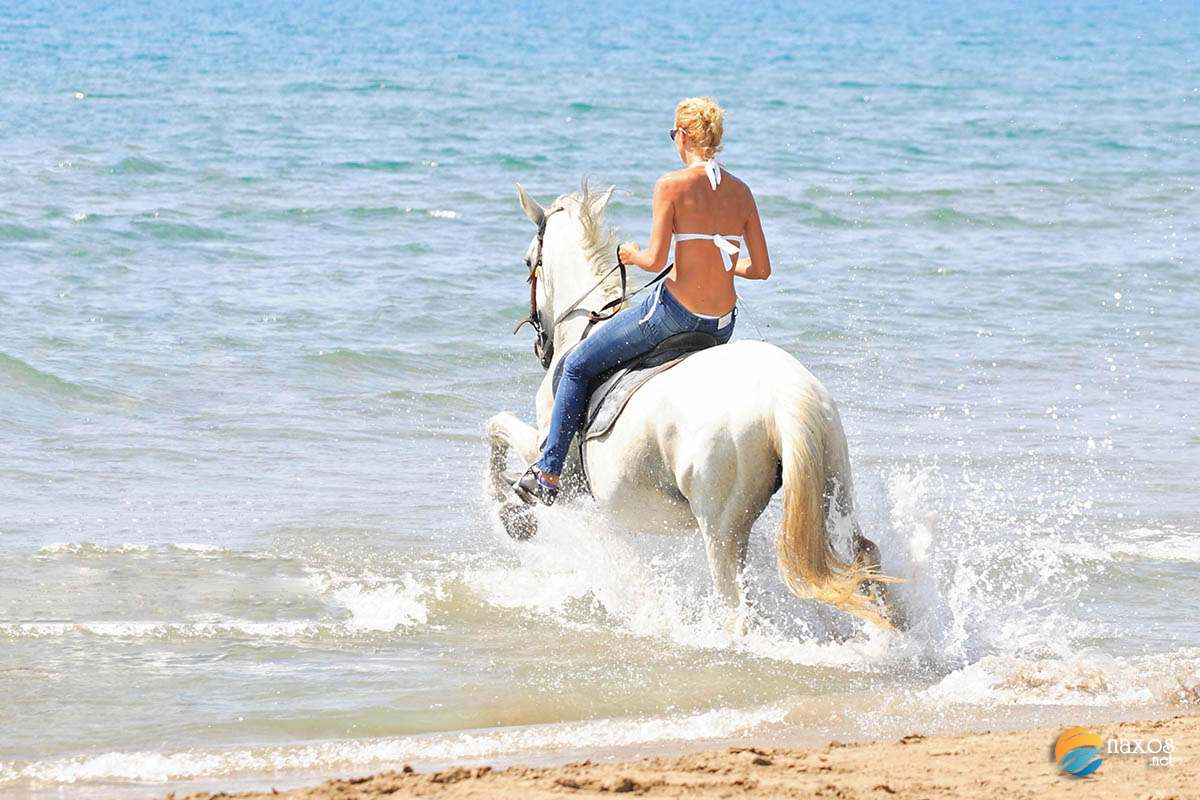 Horse riders are afforded the opportunity to see more and experience more than most since part of what the can enjoy are the adventures of magnificent scenic trails and valleys. Naxos Island is surrounded by the clear dark blue waters of the Mediterranean Sea where the warm breeze is scented with the intoxicating aromas of wild oregano, thyme and spartium.
Horseback riding is actually more of an adventure than a pastime, since it conjures images of exploration and that is what you are actually doing when riding a horse in the countryside. It is the quintessential expression of ecofriendly mobility in every sense. Guided tours are a pleasure on horseback if peace of mind is what you want and time is not an issue. It is not only that almost every part of Naxos Island can be explored, it is that you are doing it in a fashion that few people think of to start with.
Children will enjoy the ride even more. They can follow their parents or take horse riding lessons from experts making it an exciting new experience for them.
Horse riding schools on Naxos provide lessons for everyone. Beginners and people who have never been on a horse before are usually taught the first lessons in a protected area, before going for a ride out in the open. That gives them the necessary sense of security to help them have a great and relaxing time in a professional environment. In a very short time, exploring Naxos on the back of a horse seems like a piece of cake.
On Naxos, horse riding schools can be found at the outskirts Naxos Town and at Plaka beach, so that easy access to the beaches and the island's inland is provided.