Naxos apartments
Being for several decades known as the "Family Island", Naxos has a great variety of a family's favourite type of accommodation, the apartments. These units usually offer more space than the standard hotel rooms and, in addition, they include cooking facilities. They are also known as Self-Catering accommodations (according to the G.N.T.O.) and they offer a kitchenette or even a full kitchen (for the larger apartments.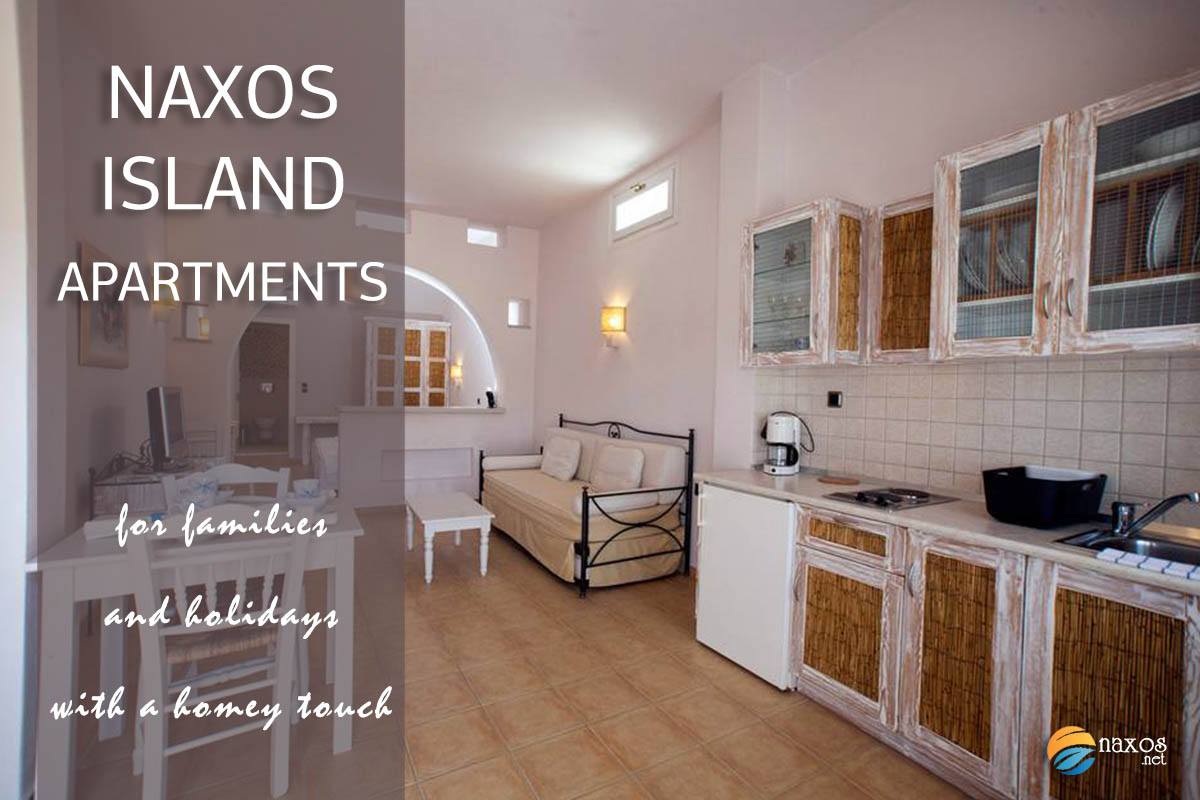 Self-Catering accommodations are divided in 2 main categories:
1. The studios, which are one room units, i.e. an open plan space that contains everything except a bathroom. In this space there are one or more beds, depending on its size, the kitchenette with a small fridge and the basic cooking facilities and, usually, a dining table with the necessary number of chairs to accommodate all members.
2. The apartments, which are units with 2 or more rooms. For an accommodation to be characterized as an apartment there must be at least 1 separate room serving as a bedroom and an open plan space including the cooking facilities as well as a sitting and dining area.
So, both categories contain the basic kitchen equipment for preparing breakfast, snacks and light meals. In some cases, a fully equipped kitchen is provided instead.
In most cases, the price of studios and apartments is higher than the price of "similar" rooms. However, they are still proven to be the most economical solution for those who prefer to use the provided kitchen amenities and save some money in doing so. Buying basic ingredients from the nearest super market (olive oil, vegetables, cheese, eggs, pasta, milk, bread and fruit) provide a wide variety of options for a wholesome meal for the whole family and may save 30 or more euros per meal. Not bad!
Select from the great variety of Naxos apartments and studios and settle in comfort in the home-like accommodation of your choice.