Koufonissi island
These two islands are separated by a narrow strait, just 200 meters. At Kato Koufonissi you will find a picturesque harbor and a few houses, and at Pano Koufonisi the residents play host to a growing number of visitors every year. For those that visit these islands identify them with a carefree summer far from reality, they offer the quietest and most relaxing holiday.
At Koufonissia the dimension of time is irrelevant. You do not need a timepiece and if you do have one, hide it in your luggage. Wake up when you want to, eat when you want to, drink when you want to, clothing is not an issue, the feeling of absolute freedom is...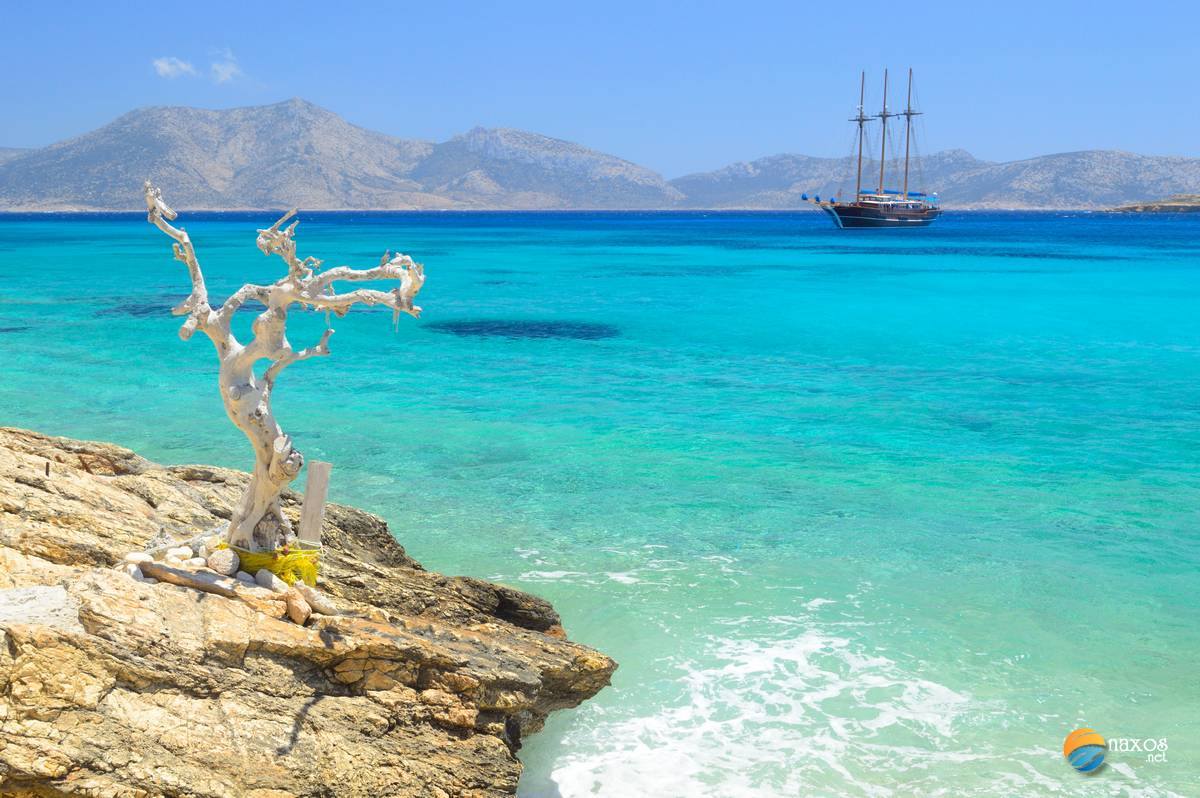 Walk hand in hand anywhere your stroll may take you, because motor cars are not necessary, besides it is far more relaxing and peaceful to hear the lapping of the waves and the early morning or late afternoon chattering of the birds. Everything is close by.
Take it easy and unwind for that is what these two tiny islands offer most. Sunbathe on the soft warm sand with the sea tickling your toes during the day and gazing at the stars with your lover at night letting the moon watch over you while you sleep.
There are some things you must not miss:
At Pano Koufonissi just above the small harbor in Chora Wander among the characteristic Cycladic houses and whitewashed streets. Visit the sea caves behind Pori beach accessible only by boat. swim in the waters of the numerous small beaches. the Koufonisia are ideal for walking, to see the whole island, walking will need three hours. All distances are small and easily covered at a comfortable pace. The path from Chora to Xylopati reveals sandy beaches with crystalline waters and cool caves. The route from Chora, passing by the Prophet Elijah ends in Pano Meria and the views from the inland island paths are unique. Try cycling around the island on the coastal road. The seas of the area are ideal for water-sports such as windsurfing. At Pori you will find many surfers having fun, while others prefer Platia Pounta. At Pano Koufonisi swim in crystalline waters for there are many choices. Loutro, Parianos, Phoenix, Fanos, Italida and Pori. At Kato Koufonissi you will find several deserted beaches such as Panagia, Detis and Nero (Water). The rocky caves on the northern coasts of Pano Koufonisi and Kato Koufonisi are ideal fishing spots and will delight amateur anglers looking for freshly caught fish. On that note, stuff yourself with fresh fish the islanders catch daily. Finally, make a day trip to Keros for a swim and to see what is left of the ancient sites that once existed on the island.