Naxos island
Naxos is the largest and greenest island of the Cyclades, third largest in the Mediterranean Sea and in the center of the Cycladic complex, between Mykonos and Paros which is closest. The island is ideal for families and couples. Greece is famous for its blue flag beaches and Naxos provides several of them. Among the most beautiful beaches on the island are those of Agios Prokopios, Mikri Vigla, Orkos and Plaka, while the entire western coastline is ideal for watersports such as windsurfing and kitesurfing. Strong winds blow there in the afternoon but can also do so most of the day.
A drive inland presents picturesque villages and sightseeing of interest that includes mount Zas almost in the center of the island, the extensive fertile valleys of the Tragea region, lush gorges and stunning sea views. An assortment of traditional villages are spread over the entire island but those that offer special views and interest are perched high on mountain tops. A good example of this is at Apiranthos where many of the older inhabitants still wear their traditional garb! Beautiful old churches, some of which are over 1,000 years old, monasteries and Venetian towers and castles coexist harmoniously with Cycladic cube like houses.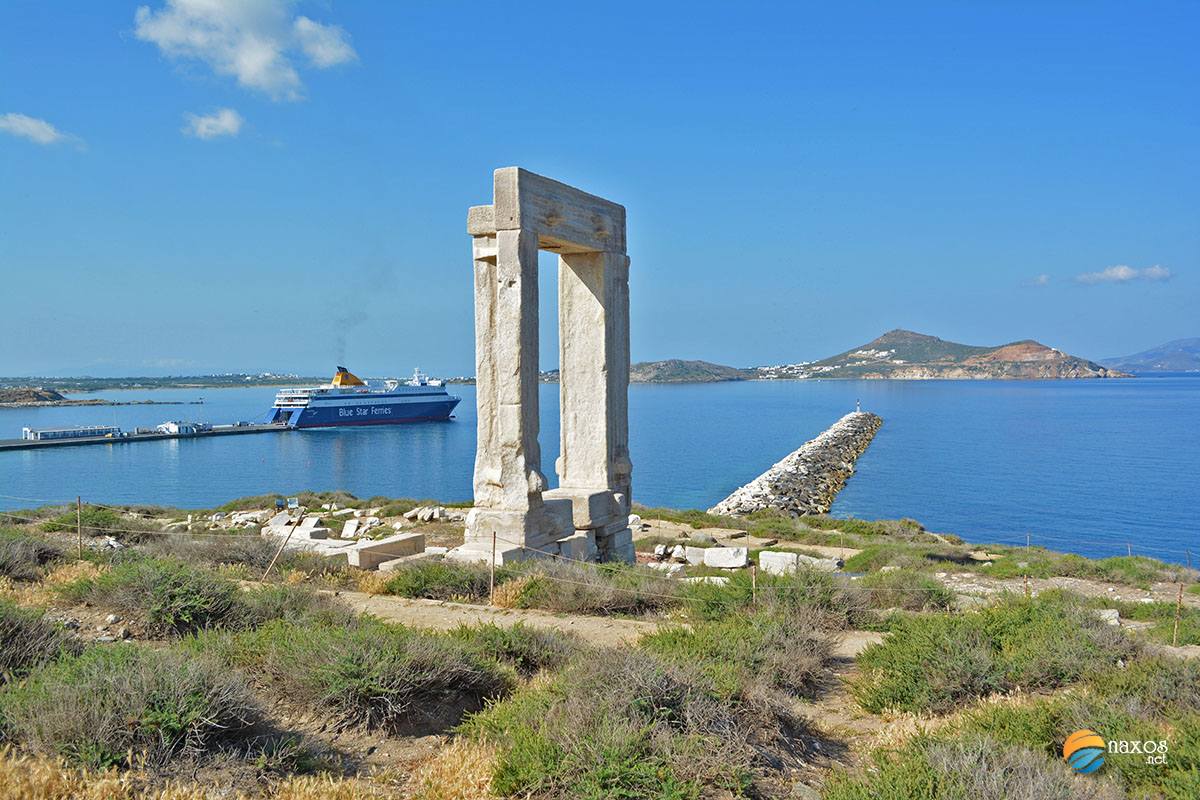 Naxos is also where according to mythology, the god of wine Dionysus was born which explains why an important sanctuary dedicated to him exists in-land along with another important sanctuary dedicated to Dimitra. Both are worth seeing.
A perfect photo opportunity presents itself upon entering the port at the islet of Palatia where the massive "Portára" stands entry to the temple of Apollo, a solid marble post and lintel dating to the 6th century BC. if you are lucky enough you may even get the opportunity to photograph Portara in the foreground with the whitewashed houses of Hóra capital of Náxos behind it. The capital of Náxos' landmark is an imposing Venetian castle built above the port. The old medieval town is surrounded by a wall and is paved with stone alleys called kalderímia where Cycladic and Medieval architecture blends.