Accommodation location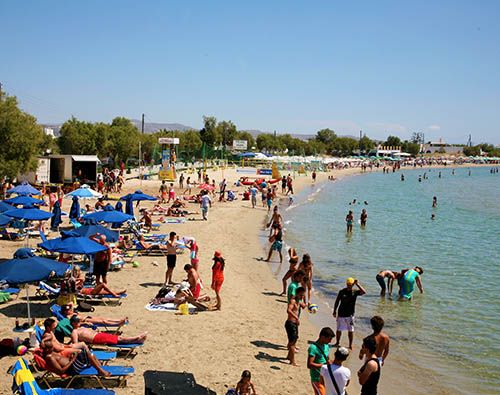 Kapetanos Rooms is located just 200m from the beach of Saint George, which is actually a 3 minute walk. The beach gathers young people who wish to have a drink or a snack on the beach, older people who reside closeby and families, which enjoy the safety the shallow waters offer as they extend to some 50m from the shore and allow children to swim and play without worry.
A delicious breakfast in one of the coffee bars on the beach of Saint George is a must. You can order either a standard continental breakfast or simply make your own selection from the menu. Greek yogurt with fresh fruit, nuts and honey, excellent snacks, great variety in coffees ...
A tasty meal or snack in one of the tavernas found very close to our rooms is yet another great option. You can select from traditional greek to excellent italian, spanish or asian; all within just a few steps.
Enjoy an early or late drink in one of the many bars, pubs and coffee bars of the area, some of which offer a wonderful sea view and seats on the sand. Try walking a bit further and at about 150m to 200m you will find the more "noisy" part of Naxos Town with an even greater variety of places to select for your evening out.
Accommodation on the map
Check out the exact location of Kapetanos Rooms on the map and locate the most important places of interest nearby.
The symbol

identifies the accommodation while the symbols






and

denote port, airport, beach, historical sites, church, parking and village respectively.
Area attractions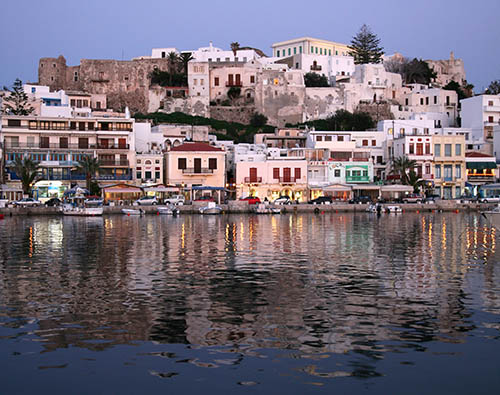 Kapetanos Rooms is ideally located within just a few metres from Naxos Town's main beach (the beach of Saint George), its central square with mini/super markets, bakeries, grocery shops, travel agencies, car and motorbike rentals, many coffee shops and tavernas and everything you may need. You don't need to rent a vehicle to reach all this, just take a short walk.
The port and the promenade (paralia) are within easy reach. Portara is just 500m away and the enchanting Naxos Town Castle and the Old Market take less than a 5 minute walk to reach.
The old church of Panagia Pantanassa and the small chapel of Panagia Mytridiotissa are also among the main area attractions and within easy reach.
Accommodation distances
The measurments below depict the actual distances from the accommodation to the places described below via an existing road or pathway. The distances given are approximate, so there could be a slight difference.
Most important distances from our accommodation
- Distance from the airport: 1km
- Distance from hospital: 800m
- Distance from the port: 500m
- Distance from the pharmacy: 120m
- Distance from nearest beach: 200m
- Distance from the bus stop: 500m
- Distance from Naxos Town centre: 120m
- Distance from nearest mini market: 50m
- Distance from nearest food & beverage: 50m
- Distance from nearest super market: 800m