Tour 6 - Northern Naxos
The next place along the way is Kinidaros, a village with plentiful supply of water and renowned for its excellent singers, its feasts and festivals. To the south lies Moni, with the monastery from which it takes its name lying just outside the village. Dedicated to the Panagia Drossiani, the monastery contains some very old paintings.
After the village of Apeiranthos, the road from the Chora forks left towards the north of the island, passing through Koronos (a village built in amphitheatrical fashion on the foothills of the mountain from which it takes its name) and Koronida or Komiaki (at 700 meters a.s.l. the highest village on the island), and ending up at the little seaside village of Apollonas, situated on a sandy bay to the north-east of the Chora. A short distance away from the village is an ancient marble quarry, and at the entrance to the quarry lies a kouros ten meters long, which has been there for centuries.
The road continues to the promontory at Stavros, the northernmost point on the island where day and night the lighthouse gives a guidance to passing ships. Here the road turns westwards and, following the north-western shoreline, leads back to the Chora. On the way it passes through the village of Agia, where there is a monastery surrounded by cool springs and age-old plane-trees and dedicated to the Virgin Mary, as well as a well-preserved mediaeval tower. A slight detour takes the traveler to Abram Bay with its magnificent sandy beach and sparkling clear water. Nearby is the 17th century monastery of Faneromeni, which contains some remarkable icons and a valuable library.
Where the road leaves the coast and plunges in towards the interior of the island, lies the village of Engares, in a fertile valley full of orchards. Fruit-trees thrive here, in particular pear and apple, and the apricots for which the island is renowned.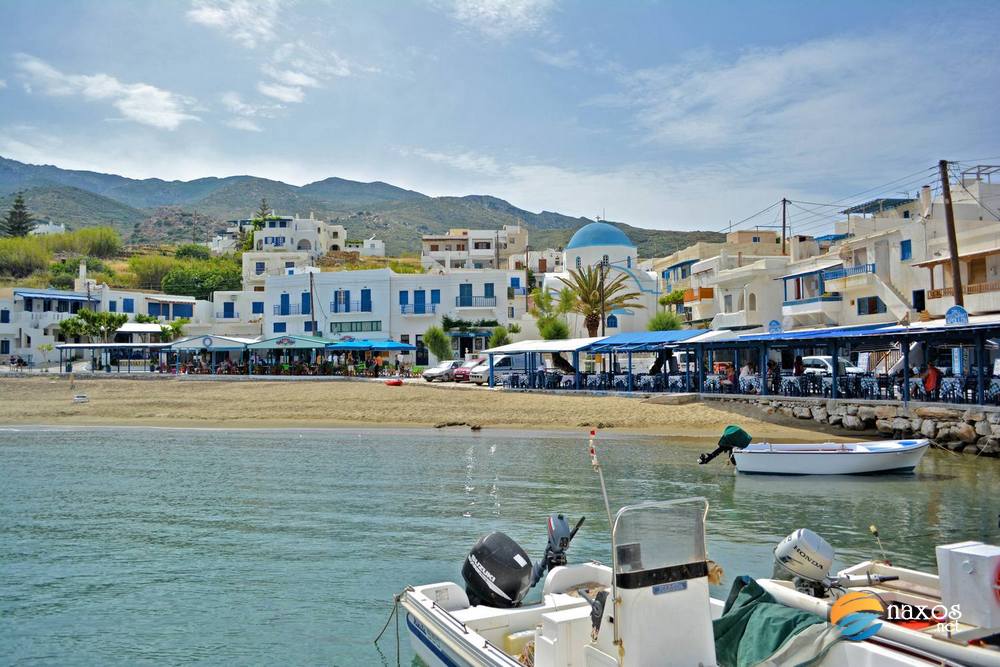 The tours of Naxos
the medieval castle and the churches of naxos town
Ruins of a huge ancient temple, traces of a Monian settlement and inumerous archaeological finds. Approaching the island by boat, the visitor will see two small islands to the left and right of the harbor, one with the little church of Myrtidiotissa, and the other called Palatia which is linked to Naxos Town ...
naxos town, the port, portara, grotta