Tour 4 - Central villages
At the point where the road forks away to the southern part of the island lies Tripodes or Vivlos, with the windmills that are so characteristic of the Cyclades. The next village is Ano Sagri, situated on a hillside and commanding a splendid view, and nearby the old monastery of Agios Eleftherios which served as a secret school during the years of Turkish rule.
To the south lies the monastery of Agios Ioannis at Gyroulas, where excavations have revealed a temple that is believed to date from the 6th century B.C. and which was dedicated to the goddess Demeter. A little further south the Kastro of Apalyros, the stoutest fortress on the island, dominates the landscape.
Back on the main road, the traveler passes through Damarionas and Halki, two villages where the local aristocracy lived in fine Neoclassical houses. Further east along this road lies Filoti, built in amphitheatrical fashion on the foothills of Mount Zas and the beautiful village of Apeiranthos, clinging to the slopes of a low hill amongst densely-planted vineyards and with an enchanting view of the sea. Apeiranthos is one of the oldest settlements on the island, and has much in the way of interesting folklore to offer, as well as some remarkable examples of traditional architecture.
Here the widespread use of marble for both masonry and road construction is such a characteristic feature of the village that it is also known as "Marmarino", (meaning "made of marble"). Steep, narrow little lanes with covered archways; balconies decorated with flowering plants in pots; clean, freshly painted houses; delightful little squares surrounded by cafes and tavernas, meeting-places for the local people - at every turn, every unexpected secret little cul-de-sac, a further surprise awaits the visitor… A unique feature of the houses of Apeiranthos are the "twin", chimney pots, so constructed as to draw better.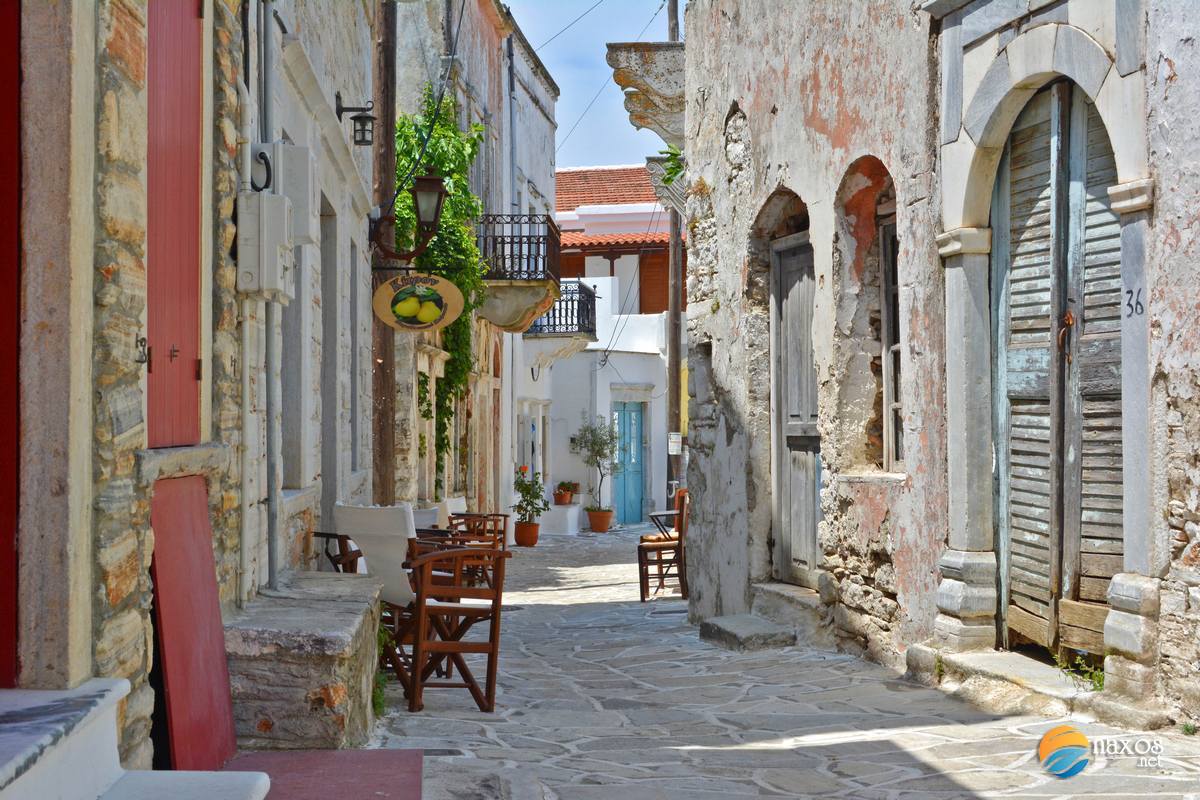 The tours of Naxos
the medieval castle and the churches of naxos town
Ruins of a huge ancient temple, traces of a Monian settlement and inumerous archaeological finds. Approaching the island by boat, the visitor will see two small islands to the left and right of the harbor, one with the little church of Myrtidiotissa, and the other called Palatia which is linked to Naxos Town ...
naxos town, the port, portara, grotta