Tour 5 - Mountainous Naxos
Amongst the area's sights the Church of the Apeirathitissa Panagia, with its sculpted marble screen, and the Churches of Theoskepasti, Agios Ioannis Theologos and the oldest of all, Agia Paraskevi, located a little outside the village, are all worthy of mention.
The 17th century Zevgoli's Tower and the Bardani's Tower, with their characteristic Venetian coats of arms depicting lions, have been well preserved. The Apeiranthos Museum contains relics found on the east coast of the island, including pots, statuettes and plaques showing scenes from everyday life.
The village is famous for its wine and its woven goods, as well as for the so called "kotsakia", rhymes which the local people still display a special talent in composing to mark important occasions in village life or any special joys and sorrows. The citizens of Apeiranthos speak a distinctive local dialect not unlike that spoken in Crete, which is particularly melodious to the ear. Many of the villagers are employed in the emery mines at Apeiranthos and Koronos.
The road continues eastwards to Moutsouna. When emery trade was at the peak, exports from this little port flourished, the mineral being brought down from the mines by pack animals; later an overhead railway was installed for greater ease and speed of delivery, and this still survives today.
Various smaller tracks lead into the middle of the island, to the plain of Melanes with its olive and fruit trees and enchanting multi-colored butterfly population, the villages of Kourounochori, which boast a magnificent tower; and Flerio, where a 7th century kouros 6.4 meters tall was found lying in an olive grove. This was probably the site of a quarry where the statue was produced, but for reasons unknown to us it remained unfinished and never reached its destination.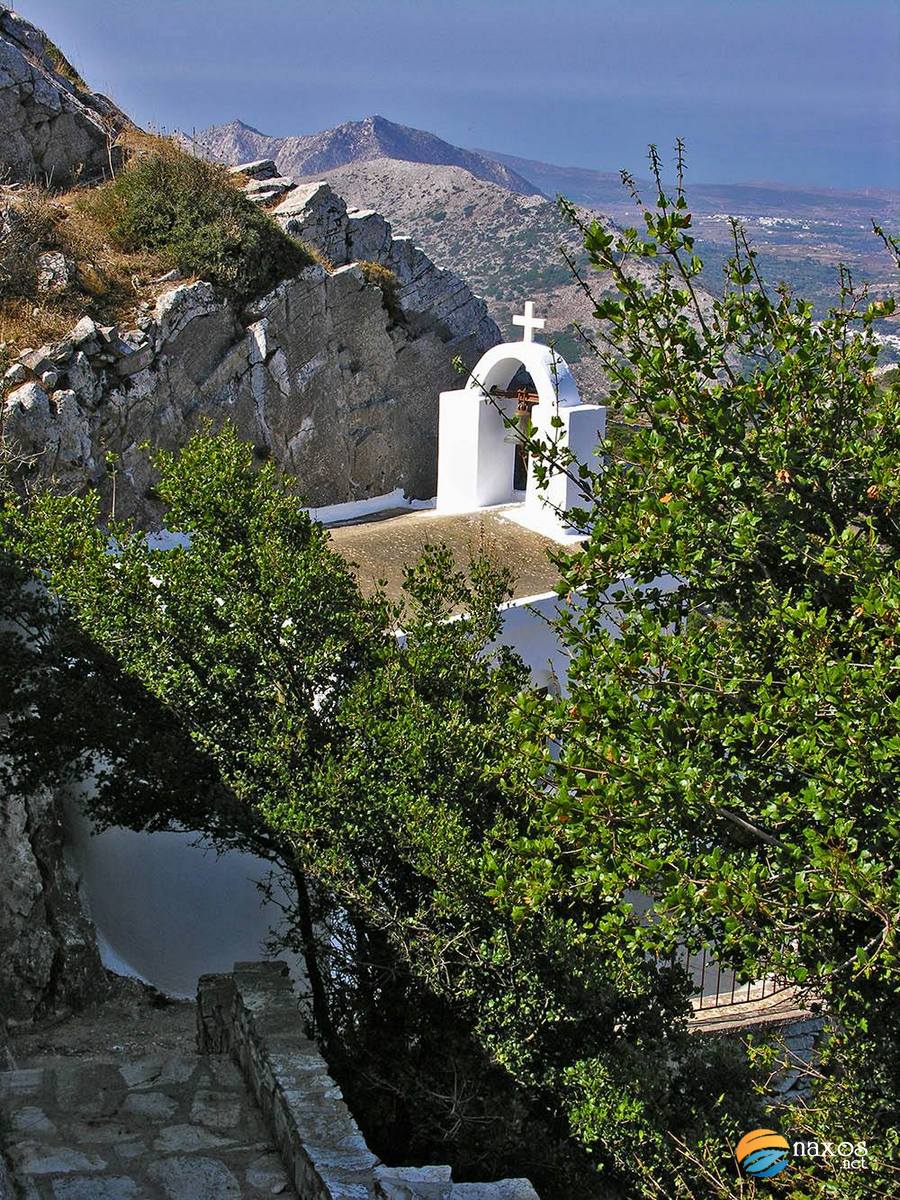 The tours of Naxos
the medieval castle and the churches of naxos town
Ruins of a huge ancient temple, traces of a Monian settlement and inumerous archaeological finds. Approaching the island by boat, the visitor will see two small islands to the left and right of the harbor, one with the little church of Myrtidiotissa, and the other called Palatia which is linked to Naxos Town ...
naxos town, the port, portara, grotta