This village is located centre of Naxos Island at an altitude of 500m which rewards visitors with great views of the central Tragea plateau. On a clear day you can even spy the sea. The village is built amphitheatrically on both sides of the central cobble-stoned street, surrounded by lush greenery and countless olive trees. Its traditional architecture features narrow paths and stone houses with strong traditional earthy colors. Moni has some 200 permanent residents but the population swells considerably in the summer. There are three taverns that double as kafenia (traditional Greek café). Nearby villages are Rahi and Kinidaros at approximately 4km.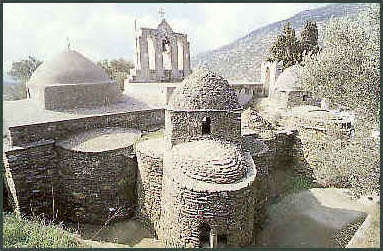 Moni (Greek - monastery) derives its name from the former Byzantine monastery which is today the Church of Panagia Drossiani (Our Lady Drosiani), built in the 6th century AD in the Byzantine style and found on the way to Chalki (Halki). It is one of the oldest churches in the Balkans. This is a historic village renowned for its textile production and wood carving workshop where beautiful pieces of art are made of wood from the surrounding olive groves. Part of the carving that takes place is not only of wooden ornaments, but also of traditional wooden tools.
Moni has a rich tradition in textiles. The women of the village have many workshops and exhibition rooms for their handmade textiles, a product made with their traditional hand looms. Even young women in the village have taken up the tradition and are actively supported by the Moni Weavers Association.
The village's houses are built in the traditional style with hand-hewn stone because the Moniots are well-known skilled stone masons. The village's streets lead to the central, cobble-stoned square and a walk around the village will reveal two old olive mills, the Church of Agia Fotini and a traditional well at one end of the village, where water was drawn by all only a few decades ago.
The countryside around Moni is very fertile and produces high quality vegetables and vines which grow about 20 varieties of grape. Moni wines and raki spirit (derived from the Arabic word Arak, also known as moonshine) are highly rated by all who sample them.
The village of Moni is on the main road from Chora to Apollonas. Access for hikers is also possible via the old traditional foot trails from Apeiranthos, Kaloxylos and Halki (Chalki). Motor vehicles are forbidden access to the picturesque alleys but parking space is available at the entrance of the village.