Naxos island is a large island and host to a 1000m mountain called Zas. On its slopes, the Naxians have built many villages, taking advantage of its lush vegetation and its fertile soil. These villages supported the island's economy for thousands of years, allowing it to be independant and to export its precious goods to its neighbours. They still do. Although the island's economy is now oriented towards tourism, its deep agricultural and stockbreeding roots are here to stay.
As a result of their strong local economy, the villagers are proud and independent people, with their own customs and their distinct way of life. This very fact is what makes them unique and so attractive to tourists.
Accessing the villages of Naxos in our days is definitely much easier than it used to be 60 or 70 years ago. And, although one still has to ascend the steep mountains, the asphalt road ensures a much easier access. Beautiful and picturesque villages of exquisite architecture can be found almost everywhere on the island. In most cases, their inhabitants are only a few senior citizens who refuse to leave their way of life to become "big town" members. They still live off their land, against all odds.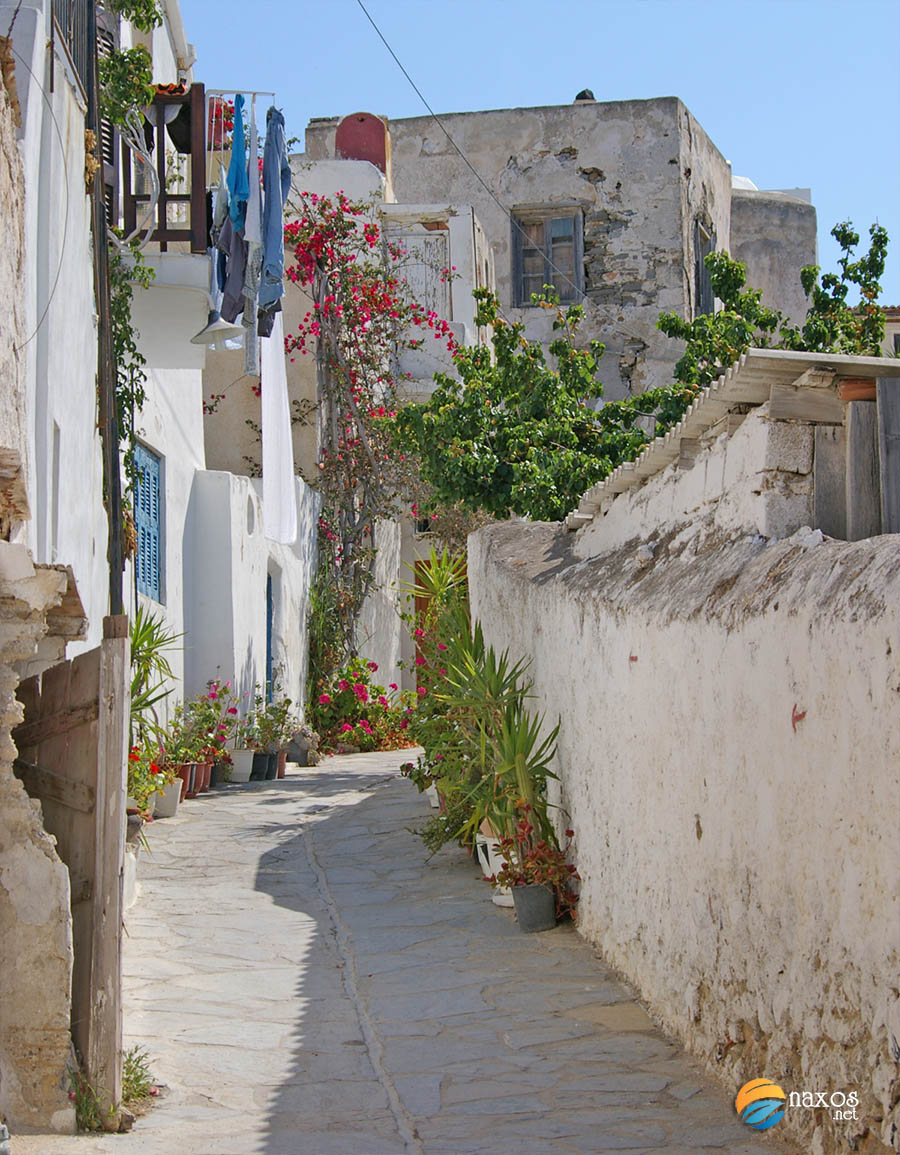 However, some of the villages are quite vibrant, full of young people who have successfully combined the traditional way of life with modern tourism, while still keeping the authenticity of their area intact. These jewels of Naxos attract so many visitors during the tourist season that any fancy holiday resort would envy them. Their fame is a result of their natural beauty and their rich historic background.
Among the most famous Naxos villages are Apeiranthos, Halki, Filoti, Koronos, Komiaki and Apollonas. Their connection to the past is still quite strong, that one gets the feeling of traveling back in time.
Before setting off on your inland Naxos adventure, plan your route carefully so that you get to see and enjoy as much as possible. You should estimate that it will take you at least 1 hour to get to know each one of the villages that interest you. In some cases it might take you a lot more, if a coffee or a meal there seems like a good idea. Combine your visit to the central villages with a swim at the marvelous eastern coast of Naxos. What is exciting about the island, is the view of the grand mountain ranges as they plunge into the Aegean Sea, forming innumerable beaches and small coves.
It is only then that the big secret of Naxos is revealed. It is its unique character which results from its strong bond with its glorious past and from its resistance to surrender to the influence of modern times. It is to their greatest surprise when travellers realize that, although they've been exploring the island for many-many days, its pleasures never really end.